How to date your bottle of cognac

Many people would like to know in what year their cognac bottle was produced. A very legimate question since prices for old cognacs are going trough the roof, but not so easy to answer. There are guidelines to help you, but be careful, it is not an exact science. For instance: from 1935 till 1964 it was mandatory in the US that bottles had the phrase 'Federal law forbids the reuse of this bottle', but after 1964 some new bottles were still brought on the market with this sentence on it. Another example: in 1979 the US changed from US customary system (pints, quarts and ounces) to the metric system, but only after 1981 most of the labels complied. So there is a transitional period of two years. In these years they sometimes put both measures, US customary and metric, on the bottles. But even years later you see bottles having both measurements on the bottle.
Guidelines
1. The obvious
It does not always have to be difficult. When a bottle is especially made to celebrate an anniversary or commemorate a historic event, the date of that event will be stated on the bottle and that obviously is the year the bottle was produced. There are numerous examples: the silver jubilee of the Queen (Martell bottle 1977), the battle of Freedland (Napoleontic war in 1807, on a ceramic drum of Camus ), the election of president Obama (as the 44th president on a Hennessy bottle in 2009).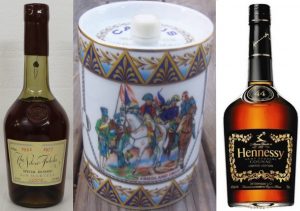 But a warning: some bottles had so much success that they have been produced for an extended period of time. Like the Napoléon books of Camus that initially were made in 1969 to remember his birthday in 1769. They are made in huge quantities, in several different colours, portrayed in full or just his bust, and by several different porcelain manufacturers. (I can not believe they would switch between more than two porcelain producers in just one year).
Some bottles have additional information on a card or tag hanging around the neck, like some Martell bottles (Cordon Argent or Extra and others, also some Cordon Bleu bottles).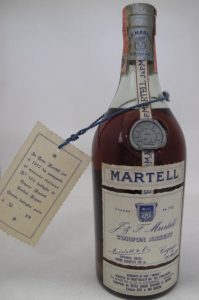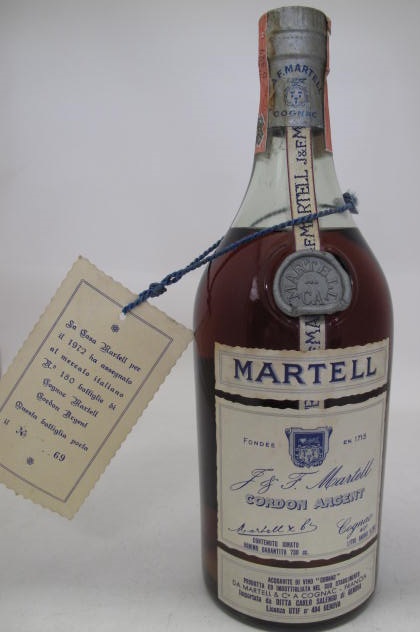 2. Introduction dates of new bottles or features
When you can find the date of introduction of a bottle, you can certainly narrow down the period. For many old bottles this precise date is not known anymore, not even the brands themselves know, but sometimes you can find uselful information on the internet.
We know for instance that Rémy Martin introduced the Louis XIII in 1874. We also know the first Baccarat bottles of the Louis XII were made around 1900. The bottles with a white top were made until 1981 and the bottles with the golden tops started in 1979.

On my bottle catalog pages I have collected as many different botttles as I could find and put them in some sort of logical order. When the date of a bottle was given or if I just knew it, I have put it there. So you could try to find your bottle in these catalogs.
Besides different features of the bottles, other changes occur during the years. Very important indicators of the age of a bottle are the boxes in which they were sold.
Some brands issue limited editions every year. Like Hennessy VS, VSOP and XO limited editions or Rémy Martin Cannes Festival editions. These years are well known to the collectors.
For one quality several different bottle shapes have possibly been used or different labels. Take a look at these VSOP's of Bisquit.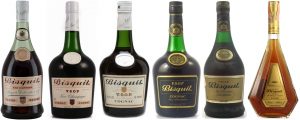 To date a Cordon Bleu of Martell the type of cap that was used is important (amongst many other features).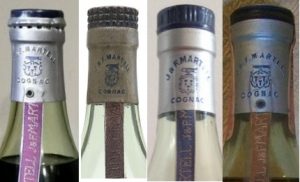 3. Information on the bottom of a bottle
Useful information is to be found on the bottom of a bottle. You can sometimes find which glass manufacturer made the bottle. If it was for instance Saint Louis Cristalleries on a Louis XIII white top bottle of Rémy Martin, you know it is after 1969.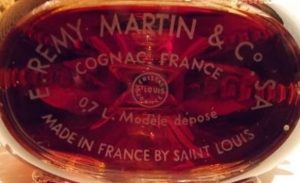 Other information can be the content, if this is not stated on the label or the back of the bottle.
Often serial numbers are put on the bottom, that correspond with certain years. This last piece of information is difficult to recover, but can be helpful as a last resort. The assistence of the manufacturer is needed though.
Sometimes you find a date, so that gives clear information. But be warned. A number of two digits not necessarily indicates a date. This is often misinterpreted. A number of four digits starting with 19 or 20 is more promissing to be a date, but not always.

4. Excise tax information
In a number of countries tax seal strips or metal medaillons were used in a specific period.
ITALY:

It is not easy to date your bottle via the tax strips or medals. There are a few problems. When new series were issued, old ones were still allowed to be used and were in fact used until they ran out. A second problem is that bottles could have been stored for some years before they got a tax strip attached and thus have gotten a newer type of tax strip. And lastly, information about the production dates of tax strips varies depending on which sources you consult. One source is the book Marche da Bollo issued by Unificato. Another source is some collectors on the Internet and a third source are the bottles themselves. These different sources contradict each other.
From 1930 till 1959 metal medals were used, but not exclusively as we shall see. First we discuss the strips, then the medals.
Tax strips
Italy started already using tax seals in 1919. Here is one example, but I have never seen them on bottles that are still around. The main text is: Tassa di bollo vini e liquori in bottiglie.

These probably were replaced with the metal medals in 1930.
Then after World War Two they introduced the uni-coloured strips like these with the text: Imposta fabbricazione spiriti.

The colours varied according to the content. The most frequent was of course pink (1/2 litre until ¾ litre). They appeared in series, starting with A, up to Z and the AA up to ZZ.
First with the Savoy coat of arms but from 1949 with the emblem of the republic (with the star):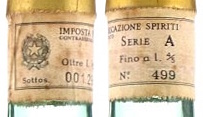 In 1950 the text changed into Imposta fabbricazione acquavite di vino. Sometimes with an indication of the age of the spirit.

The colour for ¾ litre was still pink. This  green example is for a one litre bottle.
Then according to the book Marche da Bollo, in 1973 they started producing the bi-coloured strips with the emblem of the Italian Republic and two additional stars. But we see these strips being widely used from the end of the 1950s!

For ¾ litre they were red and orange with brown rosettes.
The milled edges disappeared.
Then came the light red marbled strips like this one. According to the book only in 1970, but probably a few years before (ca. 1966-67).

As you can see, the main text is now Imposta fabbricazione distillato di vino.
Then in 1977 they changed the way they indicated the content from fractions to decimals:

There were minor variations in the colour of the letters that have been used.
These strips were abandoned in 2005 (according to the book in 1999) and replaced by the blue-green ones we see today:

The main text: Accisa sull'alcole etilico – bevande alcoliche. The series are coded by three letters.
Tax medals:
From 1930 till 1959 little round metal medals were used as a seal, hanging around the neck:
Successively they were:
Seal of Fascist Italy (sigillo Regno Fasci), used from Novembre 27th, 1933 till May 5th, 1944. It shows the shield of the House of Savoy (Sabaudo) with a crown on top and a fasces on each side.
Seal of the Kingdom (sigillo regno), used from June 1st, 1944 till Decembre 12th, 1947. Again with the shield of the House of Savoy (Sabaudo) with a crown on top. Both fasces have disappeared and are being replaced by tendons. They are surrounded by a royal cloak.
Headseal (sigillo testa di donna), used from Decembre 31st, 1947 till April 29th, 1949. With the arrival of the republic a woman's head was introduced.
Seal with star (sigillo stella), used from April 4th, 1949 till June sixth, 1959. Five-pointed star.
On the back side the content was stated, often 'from – to'.
A small problem for dating a bottle exists because it was allowed to use old stocks of these seal until they were finished. Five-pointed star seals were seen until late in the 1960s.
UNITED STATES:
After prohibition ended in 1933 they started with red paper seal strips which they have been using until 1985.
Upper and lower sides of the tax strips:
From 1934-1977 the text were : 'US Internal Revenu' and 'Tax Paid', 'Distilled spirits'.
After 1977 'US Internal Revenue' was changed into 'Bureau ATF'.
From 1982 'Tax paid'  and 'distilled spirits' was replaced by Distilled'  and 'spirits'.
wit
Near the eagle's feet:
1934-1944: non-series.
From 1944-1960 'series 111' was printed here.
From 1961-1982 this changed into 'series 112'.
After 1982: non-series.
wit
At the end of the strips:
From 1934-1960 the content was given on both ends of the strips.
From 1961 this place was left empty.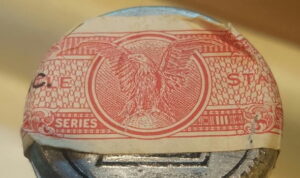 After 1985 they stopped using tax seal strips in the US.
UNITED KINGDOM:
The UK started to use the little round stickers in 2006. Sometimes they are part of the label design on the back side.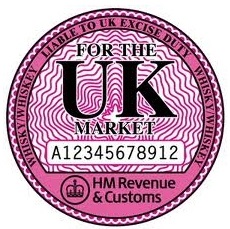 Sometimes bottles that are older than 2006 have a sticker if they are passed through a UK retailer or bonded warehouse.

5. The Federal Law sentence
In 1935 the US ordered to have the following phrase stated on each bottle: "Federal law forbids the reuse of this bottle". Almost always this sentence was embossed on the glass, but is could also be printed on the label.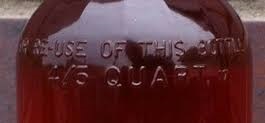 After 1964 this decree was lifted. So if the bottle does not have this phrase and it is not from before 1935, it is very probably after 1964. But be informed that some people – though very rare – have seen bottles as late as 1970 with the phrase still on the bottle. It is not an exact science.


6. Maximum price per bottle
During the Second World War, prices in the United States rose uncontrollably. To combat this, the General Maximum Price Regulation Act came into force on 30 January 1942 and the Emergency Price Control Act on 28 April 1942. During this period, maximum prices per bottle were stated on the bottle. These laws were repealed on 30 June 1947.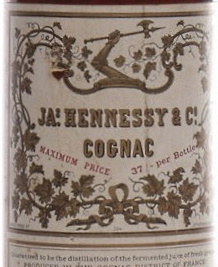 7. Französisches Erzeugnis
In Germany it was mandatory from 1918 (after WW-I) until 1964 to state the origin of the product. For cognac from France, therefore, 'Fransösisches Erzeugnis' was indicated on all bottles. Sometimes on the front and sometimes on the back. But it didn't really stop after 1964 so you can see it until the 1990s.

8. The tidyman symbol
The Tidyman symbol was invented in the US in the 1950s. It is introduced in the UK in 1969. It is now used in several countries, but it is voluntarily. Variations on the tidyman symbol exist, like the tidyman glass symbol.

9. Estimated sign or e-mark
It was introduced in 1976 by a EU-directive and is still in use in the European Union.

10. Bar-code
The Barcode was invented by George Laurer in 1973 and introduced in the US in 1974. It became widely used from the 1980s onwards. In the 1970s an 8-digit code has been used, but now it is always 12- or 13-digit.
In European countries, the EAN-13 is used. This was invented in 1974 and is fast becoming the standard for the whole world. Only the US and Canada use the 12-digit UPC code.
So a bottle with a EAN-13 or UPC barcode is definitely from after 1980 and without such a code from before 1985.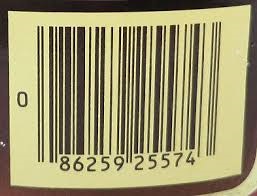 11. Content in US customary, UK imperial or metric measurements (1979-1981)
In both the US and the UK, systems for measuring bottle contents were in use that differed from the metric system more commonly used in Europe. In the US, this transition started as early as 1976, in the UK not until 1979.
In the US a law was passed by President Ford in 1975, the metric conversion act, to regulate this transition. From 1-1-1976 a voluntary transition already started. In the years 1979 and 1980 a transition period was in force. From 1981 onwards it was compulsory in the US to state the contents in litres, centilitres or millilitres on every bottle.
During the transitional phase, one could come across bottles that stated their contents according to the old system, according to the new system, or both at the same time. But also for many years after 1980, both systems were used next to each other on the bottle.


In the UK the transition period took longer because only after 1995 it was mandatory to have the content in metrics. Though it must be said that most 'goods' used prescribed units (i.e. metrics) already in 1980; but not all and I do not know precisely about alcoholic goods.
Other countries, Australia, New Zealand and South Africa, completed the change in 1980.
Another little problem re the UK measurements is they used to subtract 20ml from the volume to put on the labels. So a 70cl bottle got a label stating 68cl and a 25.2 fl.oz. bottle a label saying 24 fl.oz. The reason behind this was that it was a serious violation to sell a bottle with less content than was stated on the label. So to be sure they put a lower number on it. This habit slowly started to disappear when the UK joined the European Union in 1973, but can be seen on bottles until 1980.
In the US the standard bottle size was 1/5th of a gallon, so when they transitioned to the metric system (1-1-1979) the standard bottle size became 750ml, which is as close to a fifht gallon as possible. In most parts of the world this was the standard. But in 1990 the European Union choose 700ml as the standard for liquor bottles and 750ml for wines.

12. Standard drinks
In the nineteen-eightees the 'standard drinks' were invented. So if printed on a bottle it surely is after 1980.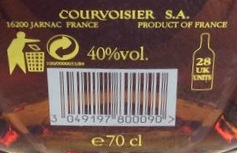 13. Cotisation symbol
The cotisation symbol was used between 1984 and 2000.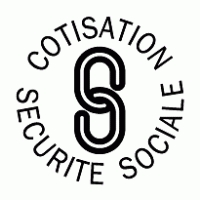 14. Governmental warning
From 1989 on it is mandatory in the US to put the governmental warning on bottles containg alcohol.



15. Green point symbol
It was invented in Germany in 1990. A bottle with this symbol therefore is after 1990. It is also known as Green Dot Symbol.
The green point symbol does not necessarily have to be green. The pictogram consists of two intertwined arrows.

16. Recycling symbol
The recycling symbol was invented in 1970 for World Earth Day but is used on liquor bottles since 1994 to indicate that the bottle is capable of being recycled. There are several variations of the symbol. It is also known as Mobius loop.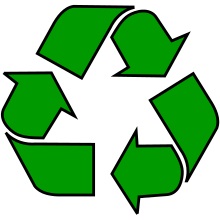 17. Pregnancy icon
This icon is voluntarily used by producers. In use since 2006. Obligatory in France since 2007.