Otard extravaganza
Collection du roi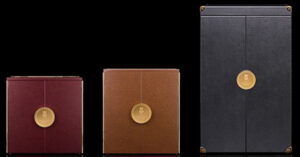 Cuvées nrs 3, 2 and 1.
Collection du Roi, Cuvée 1.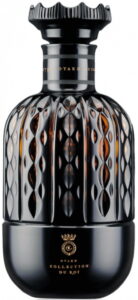 Bottle and presentation case of the Collection du Roi, Cuvée 1.
This bottles were designed in 2017-2018 by Sakiko Kobayashi of Here Design. From the Cuvée nr. 1 only 8 copies are made. It consists of 2 very old eaux de vie that has been kept in the cellars for decades. The bottle is made of mouth-blown crystal, surrounded by a layer of black glass with holes left in it. It is presented in an elaborate casing like a chinois cabinet. Behind the doors of the cabinet are drawers covered in silk, leather, gold leaf and lacquered wood.
The price was estimated at €91.645, but at a New Zealand auction one of the 8 bottles was sold in 2019 for €114.000.
Collection du Roi, Cuvée 2.


Of the number two, 288 copies were made. It is an exquisite single batch grande champagne with complex notes of sandalwood, leather, plum and fig. Each decanter was mouth-blown, hand-cut and gilded.
The presentation box has two doors and is made leather, silk and gold leaf.
The price is €21.062,-
Collection du Roi, Cuvée 3.

Number 3 is also made of two different, old eaux de vie. The bottle is mouth-blown crystal and the presentation box is made of leather and lacquered wood and covered with silk and gold leaf.
The price is around €4.734,-.