De Laage
Created by Théophile De Laage de Meux in 1856 in Cognac. He had a distillery in Rue d'Isly. By the end of the century, he was represented in many European cities. He also won many prizes with his good quality cognacs.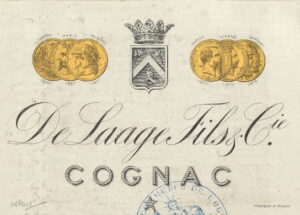 He set up a second distillery in Saint Savinien in 1875. He went there to live in the Chateau de Forgettes. He sold the distillery in Cognac in 1885 to Auboyneau who later sold it to Rémy Martin.
De Laage later became De Laage Fils & Co.
[P. De Laage lived in the Bordeaux region in Libourne at Chateau de Sales. He established his trading company in Libourne in 1830. Paul Marie Joseph De Laage de Meux is indeed related to Theophile De Laage de Meux, the resemblance of the emblem shows that, but it is a different firm, a trading company. Possibly, his cognacs (P. De Laage & Co.) were purchased from his family in Saint Savinien…]
In 1976, De Laage was sold to Gemaco, which is part of the Belvedère Group.
Trademarks owned by De Laage:
Faucon d'Or (is still manufactured by Gemaco, Belverère Group)
De Larègle
A. Bonniot & Co.
Charchy & Co.
Ramos Roel & Co.
Virgilio Dall'Orso & Co.
J.E. Naranjo
Ed. de Pourville
J. Sala & Co.
Albert Ellies & Co.
P. Sainte Marie
A.C. le Quellec
Bolivar
Broggi Hermanos
Sal y Rosas y Ca.
La Chalaca, Basso .H.Y.Piaggio
Basso Hnos.Y.Piaggio
General Importers Association
Vineyards Cultivator's Society (G.A. Charchy)
Cognac Trading Association