Renault Bottle Catalog

(last updated Feb 26, 2022)
188
bottles, but still incomplete (only half bottles and up)
Introduction
Renault was established by the 25 year old Jean Antonin Renault in 1835 in the town of Cognac. He made his name by being one of the first to sell his cognacs in bottles somewhere around the 1850s. And already in 1876 he registered his brand 'Carte Noire', that is still produced today.
In 1963 they bought Castillon and became Castillon-Renault. Between 1968 and 1991 Renault changed hands a few times until they were bought by Pernod-Ricard in 1991 and became a subsidiary of Bisquit: Renault-Bisquit.
In  2010 the Renault brand is bought by the Finnish company Altia. For some years they only produced Carte Noir and Carte d'Argent, but for some time now they produce a wider range again.
In the 1870s they started to use the emblem with the lion rising from a crown, which they have not changed since. The lion was inspired by the heraldic signs of his family-in-law: Trigant du Petit Fort.


Contents:
1. Without age-indication
 
2. Stars
3. VS

4. VSOP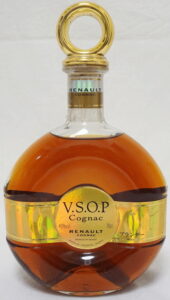 5. Lion d'Or (1960-70s)
6. Napoléon
7. Old Vintage Blend (OVB: in between Napoléon and XO)
8. XO
9. Carte Noire
Carte Noire is a blend of grande champagne, petite champagne and fins bois, average age is 12-13 years; (first created in 1876).
10. Carte Noire – VSOP
11. Carte Noire – Extra Old XO and XO
12. Carte Noire – Extra
12.1 Extra, Renault & Co.

12.2 Extra, Renault, upper edge of label is curved.
12.3 Extra, carafes
12.4 Extra, s
traight labels, silver capsule with somewhat larger emblem (end 1970s-1980s):
12.5 Extra, s
traight labels, gold coloured capsule with somewhat smaller emblem:
12.6 Extra, flasks
13. Carte d'Argent
Carte d'Argent is predominantly made of grande and petite champagne, aged between 10 to 30 years.
14. X years old and other old cognacs

15. Decanters
16. Vintages
17. Limited Editions
Reserve de Fondateur
Special occasions
Other limited editions:
Figurines
18. Magnums