René Briand
René Briand was a well-known cognac brand in the middle of the last century. But a word of warning is in place, do not confuse René Briand with those other two famous names of the past: Georges Briand and Gaston Briand, two other great brands.
René Briand had his office in the city of Cognac on the Rue Marc Marchadier. Little is known about the man himself, besides that he took the initiative to start a Rotary Club in Cognac in the year 1931 of which he was president from 1932 to 1933. When exactly he started his cognac house, we do not know, but through all of his advertisements we do know that he was very active. We also know that Italy was his most important market, because everything you come across is in Italian. Even the famous actor Yull Brynner is featuring in a movie advertisement for René Briand in Italian!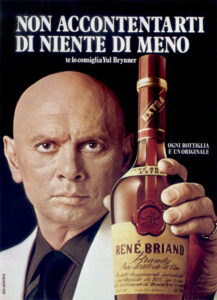 Today his cognacs are not frequently seen, they range from humble three stars and fine champagne reserves to beautiful old vintages. Some of his bottles are called Domaine de Bonnefont.
During the 1920s and 30s he seems to have been director of Staub, probably after marrying a Staub daughter.
First deed is for the Staub brand, signed in 1923 by René Briand. The second one is for the René Briand brand, also signed by René Brinad in 1922. Notice the A.S. in the emblem now. And below you can see a René Briand label with R.B. in the emblem. Observe the resemblance with the previousone.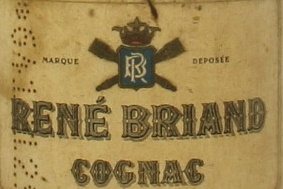 At the end of the 1990s René Briand was taken over by the Italian distillery Franciacorta near Brescia. They kept the name René Briand, but only for the brandy they produce.