Collection Ph. Godard, glass manufacturer with its own brand of cognac in Longèves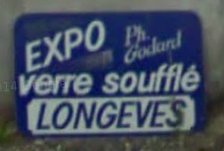 In the town of Longèves you can find the studio of Philippe Godard, an artisan glass manufacturer who, in collaboration with Pierre Bodon, an oenologist from the Bordeaux region, has launched its own brand of cognac. He falls under the category of cognac merchants.
His cognacs are grande champagnes from vineyards around Verrières and the grapes used are Ugni blanc and Colombard.
Range (grande champagne): Napoléon, XO, Extra.


http://www.cognacgodard.com/
Address: 31 rue du pont, 17230 Longèves. Telephone: 06 27370966. (Visit: by appointment; no further information known). Note: a little further to the north, west of Fontenay-la-Comte, is also a town called Longèves. The town of Longèves where Godard is located is east of La Rochelle.) There is an annex on the Îsle de Ré: .