Everone knows cognac is an expensive drink. Of course you can buy a bottle for as little as  $20, but I would not recommend drinking it. A decent bottle of cognac sets you back at least $50-$60. But did you know there are bottles that are worth over $2.000.000?
It all started with Hardy in the eightees who brought the Hardy Perfection, a bottle made of crystal, containing a blend of some very old grande champagne cognacs that would cost you $13.000. Until then the only real expensive bottle was the Louis XIII of Rémy Martin, first produced in 1847 and costing at present some $2.000.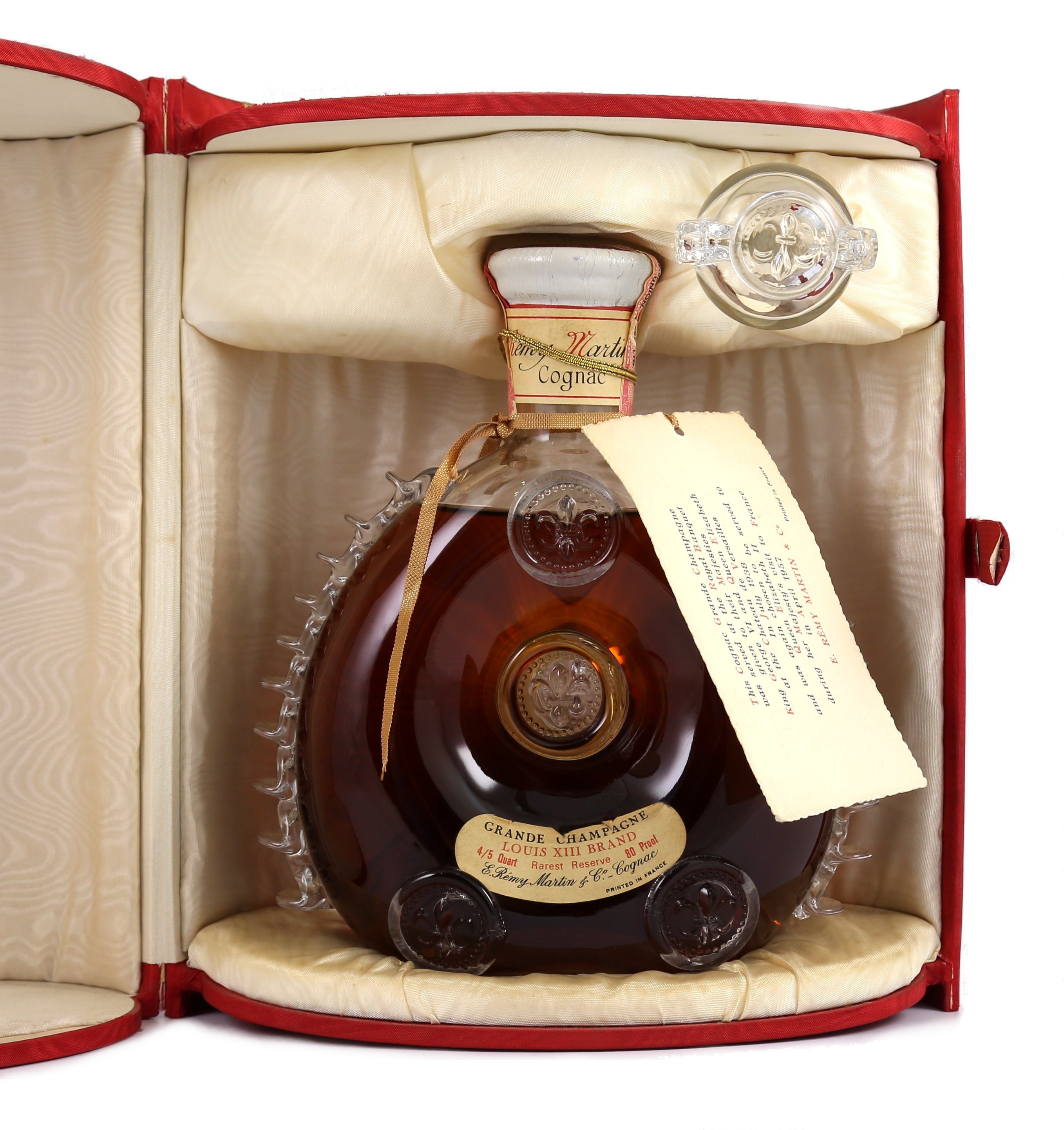 After the Perfection others followed, slowly but surely: Martell with Création, Frapin wit hits Cuvée 1888 and Hine with Talent de Thomas. But the most expensive bottle up till now is the Henri IV Dudognon Héritage that was introduced in 2008 and costs a staggering $2.000.000.
There are many factors involved in determining the price of a cognac. The production costs of course: the land, the vines, the maintenance on the land and the equipment you need, the picking, pressing and fermenting, the distillation. Did you know that a pot still, or alambic as they call them in France, easily costs you a $100.000! After distillation you have to store the cognac for many many years, years in wich you can not reap any profit, while the investments are high. You need wooden casks of 300 liter to store them in, each cask costing $500-$600. And of course you need a place to store them in: 'le Chai'.When the cognacs have aged long enough, you make your blends for wich you need very big casks, called tonneaux. They are even more expensive. Then bottlling takes place: you need bottles, etiquettes, machines for cleaning the bottles etcetera. You have to invest in setting up some sort of distribution. Then… taxes!
But this is not all of it. These are just the normal production costs.  Whe you are lucky and you have succeeded in making a very good bottle of cognac, you can ask more, because quality costs! So the precise region where you grow your wines, the provenance or 'cru', is important. And the expertise of the Maître de chai of course.
Sometimes there is a special occasion that the 'maison the cognac' wants to commemorate. To do this they sometimes produce limited editions. Usually they choose some of their best cognacs to make a special blend and they design special bottles, made of exceptional materials, sometimes even with the aid of famous artists. When the bottle is made of crystal and the giftbox is made of ebony wood or exquisite leather, the price goes up. This can go to extremes like the Martell Trunk by Pinel & Pinel.
After many years, when a particular bottle is not for sale any more in regular liquor stores, it becomes rare. Some bottles are exceptionally rare and on auctions they can cost many thousands of dollars, up to a hundred thousand. Also bottles that contain a rather low quality cognac, say a three star cognac or even a VSOP, can become costly. You can see bottles of famous houses like Hennessy made in the fiftees or sixtees going for $60-$70 easily. It is not for their quality, but for their rarity and they are mostly collectors who buy them.
Underneath I have made you a table with the most expensive cognacs in the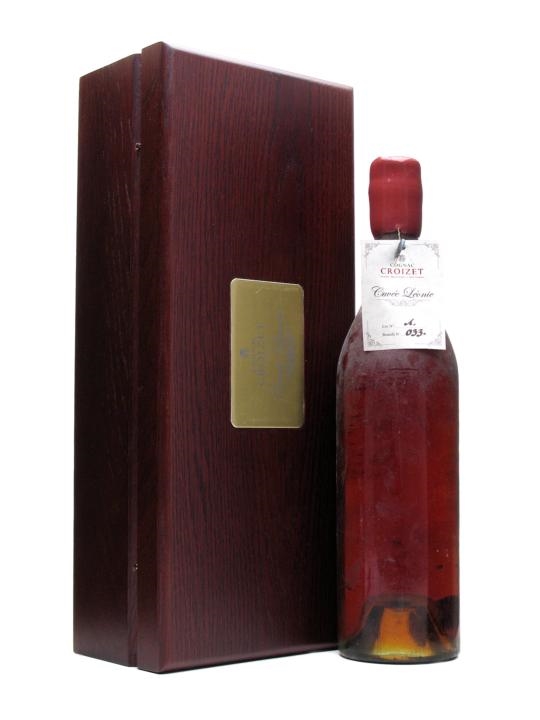 world. But I have only included cognacs that were expensive when they first appeared on the market. Cognacs that now cost you say 100.000 because they are very old and rare, but when they were produced costed maybe less than 100 are not included. For example, the very famous Cuvée Léonie 1858 of the house Croizet brought in a mind-boggling $150.000 on an auction in Shanghai in 2011, but only because there are not that many left of them and there are some collectionneurs out there that are willing to pay maybe a thousand-fold of the original price.
I also only included one bottle per brand: the most expensive one.
Table: most expensive cognacs (one per brand):

(You can click the thumbnails for more information on all expensive bottles of a brand)
brand
bottle
original price
present price
year
# copies
notes
thumbnail
Dudognon
Henri IV Dudognon Héritage
€1.810.000
$2.000.000
€4.000.000
2008
1
designed by Jose Davalos; also tribute to Dubai, Michael Jackson and Princess Diana (2017)
Hennessy
Dame Jeanne
€600.000
2021
2
Martell
Hidden Gems
€204.000
$225.000
2015
1
Otard
Collection du Roi, Cuvée 1
€90.000
2019
8
Frapin
Frapin 750
€42.400
2020
21
To commemorate oldest family, born in 1270
Rémi Martin
Rare Cask 42.6
€18.000
$20.000
€18.000-35.000
2013
738
Hardy
L'Eté
€12.500
$14.000
2015
400
Lalique decanter
Courvoisier
L'Esprit de Joséphine
€12.382
$13.500
2014
8
Lalique decanter
Camus
Cuvée 5.150
€12.000
$13.500
2013
1492
Baccarat decanter designed by Serge Mansau
Hine
250 Years Decanter 1953
€10.000
$11.250
2013
250
Delamain
Le Voyage
€7.140
2008
500
Chabasse
Baccarat
€6.800
AE Dor
Sign of Time
€6.288
€5.000-10.000
2008
One euro is approximately 1.125 dollar (june 2016)
Table: expensive bottles (several per brand):
| Brand | Bottle | Price | Year | Copies | Remark |
| --- | --- | --- | --- | --- | --- |
| Dudognon | Henri IV Dudognon Héritage | €1.810.000 | 2008 | 1 | |
| Hennessy | Dame Jeanne | €600.000 | 2021 | 2 | |
| Hennessy | Paradis Imperial in Louis Vuitton trunk | €270.000 | 2019 | | made to order |
| Martell | Hidden Gems | €204.000 | 2015 | 1? | Rumor is that there is only one, but I have already seen two ... |
| Hennessy | Beauté du Siècle | €181.000 | 2007 | 100 | |
| Hennessy | XO | €150.000 | 2021 | 30 | 6L bottle by Frank Gehry |
| Hennessy | Basketball Paradis | €145.000 | 2022 | 75 | 1.75L Baccarat bottle, designed by Lorenz Baumer |
| Martell | Trunk made by Pinel & Pinel | €133.000 | 2011 | | contains 9 high-end bottles of 70cl and 28 test bottles |
| Martell | Cordon Bleu Centenary Jewel Edition | €127.000 | 2012 | 1 | |
| Otard | Collection du Roi Cuvée 1 | €90.000 | 2018 | 8 | |
| Courvoisier | Tribute Borderies | €65.953 | 2014 | | Demi-john; content good for 43 bottles |
| Frapin | Frapin 750 | €42.400 | 2020 | 21 | To commemorate the oldest relative of the Frapin family who was born in 1270 |
| Hennessy | 8 Limited Édition | €35.000 | 2016 | 250 | |
| Martell | Chanteloup XXO | €35.000 | 2019 | | is made to order |
| Martell | Métaphore | €34.000 | 2018 | 1 | |
| Hennessy | Édition Particulière | €23.700 | 2014 | 29 | |
| Otard | Collection du Roi Cuvée 2 | €21.000 | 2018 | 288 | |
| Martell | Savoir-Faire | €20.000 | 2018 | 1 | |
| Martell | Chanteloup Perspective Tasting Trunk | €19.300 | 2014 | | is made to order |
| Rémy Martin | Rare Cask 42.6 | €18.000 | 2013 | 738 | |
| Rémy Martin | Louis XIII Jeroboam Trunk | €16.000 | 2011 | 100 | |
| Frapin | Rabelais Age Inconnu | €15.000 | 1994 | | |
| Hennessy | Timeless | €12.500 | 1999 | 2000 | |
| Hardy | L'Eté | €12.500 | 2015 | 400 | |
| Courvoisier | L'Esprit de Josephine | €12.382 | 2014 | 14 | |
| Camus | Cuvée 5.150 | €12.200 | 2013 | 1492 | |
| Hardy | Thoroughbred | €12.000 | 2015 | 29 | In collaboration with Aria Resort & Casino; can only be bought there (Las Vegas) |
| Hardy | Perfection | €11.660 | 1981 | | |
| Martell | Premier Voyage | €11.523 | 2015 | 300 | |
| Hardy | Printemps | €11.500 | 2013 | 400 | between €8.280 and €15.900 |
| Hennessy | Ellipse | €11.500 | 2007 | 2000 | |
| Frapin | Cuvée François Rabelais | €10.161 | 2002 | 600 | |
| Rémy Martin | Black Pearl | €10.000 | 2008 | 786 | |
| Rémy Martin | Rare Cask 43.8 | €10.000 | 2009 | 876 | |
| Hine | 250 Years Decanter 1953 | €10.000 | 2013 | | |