Engrand Frères (Emile Engrand)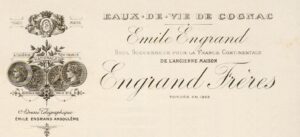 Angoulême based firm, established in 1863, probably by Emile Engrand's father, Étienne Eugène Gustave Engrand (1841-1891), together with one of his uncles.
Émile Legrand (Georges Paul Étienne Émile 1867-1930) was the only successor of Engrand Frères and renamed it Emile Engrand.
In 1957 Engrand merges with Sazerac de Forge, also a firm in Angoulême
In 1970 Engrand Sazerac de Forge is bought by Edgard Leyrat.
In 2003 Abécassis (ABK6) takes over Leyrat. Leyrat is still an active brand, now produced by ABK6.
The name of Emile Engrand (or Engrand Frères) lives on because of some very fine vintages they have made. Known vintages are: 1820, 1846, 1848, 1858 and 1870. But they are difficult to find.
Some other brands that were in possession of Emile Engrand are:
Boilevin
Chaloupin
Magnier
Saint Cirq
Ducasse