Falsifications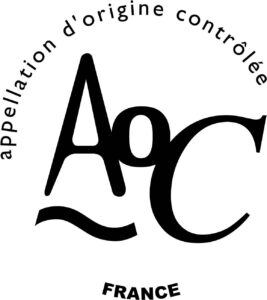 Cognac is a generic name. The French word for it is appellation.
The French have been trying to protect their generic names for a very long time. They have the appellation controlée for this purpose. A large range of products are protected by this appellation controlée. The best known appellations are perhaps the wines, cheeses and, of course, cognac.
For example, it is not the intention to call a wine that is not made in the Bordeaux region bordeaux. And the same applies to cognac. A brandy may only be called cognac if it has been produced in the cognac region according to the requirements of the production method.
Yet, in foreign shops or on the Internet, you often come across cognacs that are not produced in the cognac region. The best-known are the Italian cognac, the Spanish cognac, the Armenian cognac and the Russian cognac.
As early as in 1891, international agreements were made at the Madrid Conference. These were called the Madrid Agreement of 1891 and were revised in 1900, in 1911 and in The Hague in 1925. Initially, only a handful of countries wanted to sign this agreement, but nowadays more than a hundred countries have signed. As of 1989, a protocol has been added. There are only a handful of countries of any importance that have not yet signed. To name a few: Argentina, Iraq, Yemen, Morocco, Nigeria, Uzbekistan and Belarus. Only very recently have Canada (2019), the USA (2013) and Afghanistan (2018) signed.
Signing this agreement is one thing, complying with it is another. For example, Armenia signed in 1991, but bottles of cognac still appear years later. Nowadays, most Armenian bottles have Armenian brandy neatly written on them.
Italy, however, which signed as early as 1894, has been producing Italian cognacs for many decades.
Other important countries that still make 'cognacs' are Russia and the countries that formerly belonged to Russia.
In France itself, too, cognacs have been made in the past that do not originate from the region. Almost every wine region had its 'cognacs'. However, this practice was quickly ended with the introduction of the appellation controlée. Dutch and Belgian cognacs were, however, still made well into the 20th century. Somewhere during the Interbellum, this came to an end.
To illustrate this, I have made some pages with falsifications.
Other falsifications are more difficult to recognize. This is one: 1904 Denis-Mounié.

Denis-Mounié has produced many vintage cognacs, but never used Gold Leaf cognacs to make a vintage. Also the crescent shape label with 1904 on it, was never used by Denis-Mounié.
stop


This Augier 1888 vintage has a neck label that was originally from a Balluteaud bottle. Augier did use crescent shape neck labels with a vintage indication on it, but they were just a bit different. Like the ones below.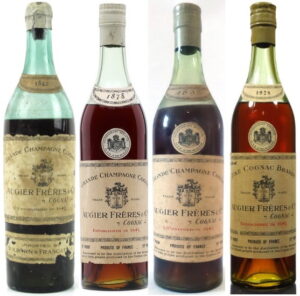 This is a magnum. Croizet never put a paper shoulder label on the bottle where they used to put wax. If it would be a genuine vintage, they would have stamped the year in wax on the shoulder.

A Napoleon with Très Vieille Fine Cognac from Salignac, Réserve de l'Aiglon. The paper neck label with 'Réserve 1959' must have been added later on. There are no known vintages after 1929 from Salignac. And if so, it would have been printed on the label itself.