La Guilde du Cognac, distller in Merpins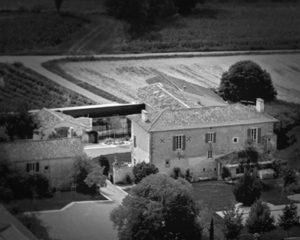 La Guilde du Cognac is made by Maison Verte (now Maison Villevert) owned by Jean-Sébastien Robicquet. His family moved to Charente in the first half of the 16th century, where Jehan Robicquet was already involved in making cognac around 1550. This was during the period when the name cognac was not yet used. It was then only called eau-de-vie.
La Maison Verte has been active since the mid-first decade of 2000 and was initially called EuroWineGate. The name change to Maison Villevert took place in 2016. They produce multiple spirits (Gin, Vodka, Vermouth and other liquors).
In 2017, Jean-Sébastien starts cognac production under the name La Guilde du Cognac.
They have 40 hectares of vineyard in petite en grande champagne and distill themselves.
The cognac range consists of a series of single cru cognacs named after the municipality of the vineyard: Saint-Preuil (GC), Saint Germain de Vibrac (PC), Cherves Richemont (Bord), Lorignac (FB)
http://laguildeducognac.com/
https://www.maisonvillevert.com/
Address: Villevert, 16100 Merpins. Telephone: 0545-353200. No information is known about visiting possibilities.