Gacon, bouilleur de
Cru

in Les Touches de Périgny (fins bois)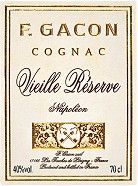 Family business from 1906. Francis Gacon has since been succeeded by Bruno Gacon, who represents the fifth generation. Grandpa started with distilling and Francis with direct sales in bottles. The family domain is 40 hectares and is located in the fins bois.
In 2002 Bruno Gacon bought several hectares of grande champagne vineyards (including the available stocks) located in Ambleville and Ségonzac.
In addition to their own sales, they also continue to sell a large part to the big houses, especially to Hennessy and Martell.
They distill themselves (sur lie). Storage is in Limousin barrels.
Gamma (fins bois): VS, VSOP, Napoléon and vintage 1969 (out of stock), 1983, 1990.In addition, an XO Grande Champagne.

http://www.cognac-gacon.com/
Address: 2 rue du Pont de Fer, 17160 Les Touches de Périgny. Telephone: 0546 585327; Mob.: 06 16687983. (Visit all year round from Monday to Friday from 9am – 12.30pm and from 1pm – 6pm. On weekends by appointment only.)