Hine 250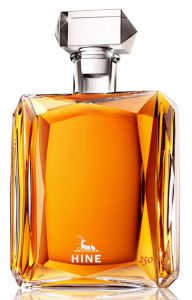 In honour of their 250th anniversary in 2013 Hine manufactured the 'Hine 250 Years Decanter 1953'. It is a vintage grande champage of the year 1953. The designer for the carafe was Andrée Putman, a famous French interior designer, who in the greatest discretion already got the assignment in 2005. When the bottle was brought out in 2013 she recently had passed away, so it was her daughter Olivia who designed the presentation case to match. The carafe is made of Baccarat crystal in a very simple but elegant form reminiscent of a roughly-cut diamond.
The box made of wood also has the form of a diamond and is designed to be a luxury jewellery box, especially made to enjoy a second life.
The first decanter was presented to Queen Elizabeth, who had granted the Royal Warrant to Hine in 1962. Even now Hine is the only official cognac supplier of the British Crown.
250 Pieces were made and they now cost about $11.250 each.

Talent de Thomas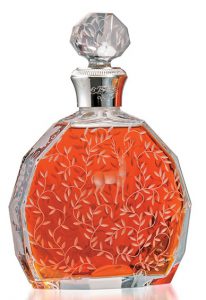 Talent de Thomas was produced in the year 1991 to commemorate the arrival of Thomas Hine in France 200 years earlier. It is made out of 50 to 60 years old grande champagne eaux-de-vie. The decanter is made of Baccarat crystal and comes in a cigar humidor made of Maccasar ebony from India and Honduran mahogany, accented with an inlaid tracery of violet wood. Each box is individually numbered by the humidor designers of Elie Bleu Paris. As you can see from the photos below, there are individual differences between boxes.
The decanter has a silver band made by a silversmith around its neck. The bottles too are individually nummbered. Also to be found in the case are four crystal tulip glasses, designed by Bernard Hine. The price for a bottle is somewhat above $6.000.

Mariage de Thomas Hine
The Mariage de Thomas is also from the year 1991. This bottles is to commemorate the mariage of Thomas Hine with Françoise Elisabeth Delamain in 1796. Not in 1791 or 1797 as some people maintain. Thomas Hine enters into partnership with his father-in-law, James Delamain. This company was established in the year 1763. In 1817 Delamain went bankrupt, but Thomas Hine continues under his own name. This is the reason for Hine to hold on to 1763 as their year of establishment despite the fact that Thoms Hine himself only arrived in France as late as 1791.
Again this bottle is made of Baccarat crystal and it holds a blend of twelve different eaux-de-vie from the years 1921 to 1959, all grande champagnes.
There also exists a Marriage de Thomas made of 1953 grande champagne.
Once again the case is a cigar humidor that can hold 75 cigars. Its price is around $4.500.