Martell Extravaganza
Hidden Gems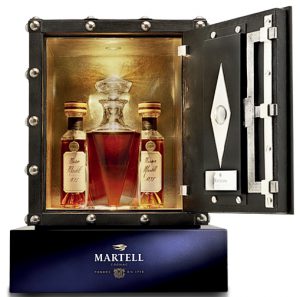 Martell's most expensive bottle is without doubt the Hidden Gems. Only one exists and its price is $225.000. The bottle is made in 2015 and comes in a replica vault. Actually it is not one bottle, because it is accompanied by two sample bottles of 20cl. One contains an 1875 cognac and the other an 1898. The 70cl carafe contains a blend that is made from these two vintages. The carafe is a breathtaking Baccarat crystal decanter. The same decanter was first used for the Martell Cordon Bleu which was offered to Queen Elizabeth II in 1954 en to Emperor Hirohito in 1971.
The safe itself is is a replica of the safe that is kept at Martell. It is handmade with gold lead and mother of pearl.
It seems strange to maintain that only one specimen is made, because you can find pictures of an other safe on the Internet with a similar carafe and  two similar sample bottles, also from the years 1875 and 1898. The outward appearances differ slightly, also the appearance of the safe itself.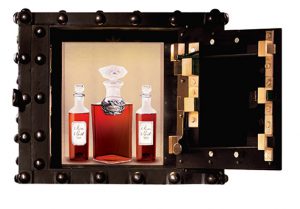 Pinel & Pinel Trunk
The Pinel & Pinel Trunk saw the light in 2011 and is designed by Pinel & Pinel, a luggage company in Paris. The set-up is really of a cocktail bar. It is meant for making your very own blend. To guide you in the process a bleu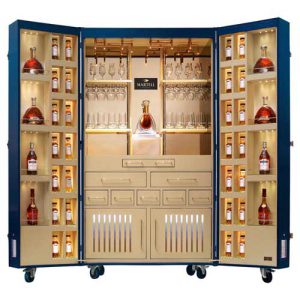 leather-bound cellar master's notebook is enclosed containing all the handwritten tasting notes of Benoît Fil, Martell's cellar master. The trunk has 28 sample bottles and each bottle of 20cl has a label that states which Cru how many millésimes were used to make the blend. For example 'petite champagne no. 3' means the blend is a petite champagne made out of three different vintages. All the tools you can think of for making a cocktail are present in this trunk: knives, strainers, measuring cups, even an ice machine and a crusher.
But also some other luxurious objects: a linen apron, tea towels, napkins by Alexandre Turpault and Coucke, an oak chopping board, cigars, a cigar cutter, a lightner, matches, a humidor, scent candles and a whole array of fine crystal cognac and cocktail glasses. And of course adequate lightning is provided.
Not only is it possible to make your own blend of cognacs, you can have a glass out of one of the nine deluxe Martell bottles that are provided: two bottles of Cordon Bleu, a bottle of Or de Jean, two XO's, two Création Grande Extra and two VSOP's.
The trunk itself is made of full-grain bleu leather and has wheels underneath. The lamps are made of copper and are shaped in a way that they remind of pot-still (alambic) elements.
The trunk measurements are 2.06m high, 2.20m wide and 0.7m deep.
Price: $168.000.

Martell Chanteloup Perspective Tasting Trunk
The very elegant Chanteloup Perspective Tasting Trunk was specially designed to celebrate the opening of the Connoisseur's Corner in 2014, a Martell shop in Hong Kong. If you want to buy one, it will be crafted to order by Pinel & Pinel and has a four months time of delivery. The price is $21.700.
This neat little valise does not only contain a bottle of Chanteloup Perspective but also two Cristal de Sèvres glasses, a cocktail kit, a lightner by S.T. Dupont and a cigar cutter by Ercuis. These are all put away in one of the beautiful adorned leather drawers of the case.
The cognac itself is a blend of grande champagne, petite champagne, borderies and fins bois. The bottle's design represents the wrought iron gates at the Chateau de Chanteloup, residence of Martell.

Cordon Bleu Centenary Jewel edition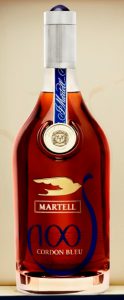 A very special bottle was made to celebrate the 100th anniversary of the Cordon Bleu in 2012 and only one such bottle was produced. Its price was well over $140.000. To make this bottle Martell called in the help of Maison Boucheron, one of the greatest and oldest jewelry houses in Paris.
The bottle is made of fine crystal with some distinctive details. The Martell swallow is made of gold and has a diamond eye. The blue ribbon in its beak ends in the number hundred but at the same time represents the infinity sign.
The gold sculpture work on the neck is highlighted by the gadroon, one of Boucheron's key codes.
On top is a white gold seal and a white gold lid, which is crowned with a lapis-lazuli cabochon, another distinctive code of Boucheron.
The 'Ultimate Jewel' is presented in a specially designed box, using Martell's distinctive colour blue and with a gorgeous ivory veal skin leather interior.
Making this a true collector's item, a centenary metal plate marking the occasion is concealed in a drawer at the base of the box.

Premier Voyage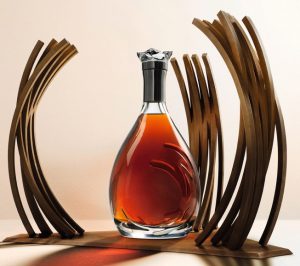 This bottle is designed in 2015 to celebrate the 300th anniversary of Martell. It consists of 18 different eaux-de-vie of which the oldest dates from 1868. The stand around it is designed by Bernar Venet, a French conceptual artist. Three clusters of arched Cor-ten metal represent the three ceinturies. The carafe is made of Cristal de Sèvres. The casing around it is also specaculair.
Three hundred pieces are available, but they are only produced to order. They will be individually signed and numbered and they cost  around $11.000.
The blend can only be drawn from the sculpture with a fusil, a special pipet used by cellar masters.
The name Premier Voyage is a reference to the endeavours of making as good a cognac as during the first years of the 19th century: the first journey.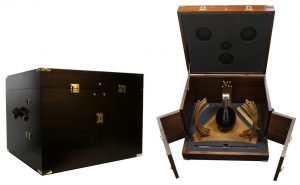 Création
This beautiful Baccarat decanter was made in 1985 to commemorate the 280th anniversary of Martell. It has some of the oldest and best eaux-de-vie from the cellars of Martell. When it first came on the market it costed $6.750, but nowadays you can will be able to find a bottle for $4.500.
A warning: Création and Création Grand Extra are two different qualities. The latter is much less costly.

L'Art de Martell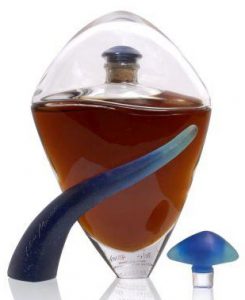 When the English retroceded Hong-Kong to China in 1997, Martell created L'Art de Martell to commemorate this event. 1997 Is also the number of carafes that were made. They were designed by the French glassmaker Daum. The special form of the carafe supposed to be a metaphor for the 'swallow returning to its nest'. The stopper to match is made of molten glass.
Inside the bottle is a blend of beautiful and very old grande champagne cognacs. Last known price: $6.800.

L'Or de Jean (Martell) en de l'Or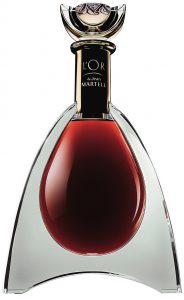 Do not confuse the earlier edition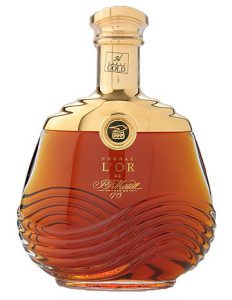 L'Or (on the right) with L'Or de Jean (left). L'Or de Jean comes in a De Sèvres carafe. L'Or is also in a handmade crystal decanter, but not a De Sèvres.
L'Or is somewhat less expensive, around $2.475 while L'Or de Jean costs around $3.950.
Both are blends of very old grande champagne and borderies cognacs, but no exact ages are given.Probably the L'Or de Jean even somewhat better than L'Or.
It seems the L'Or de Jean can have more than one appearance. Anyhow, the packagings vary.

Cordon Argent Baccarat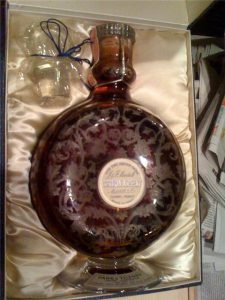 You can not buy this magnificent Cordon Argent decanter anymore. It is probably from the 1950's-1960's. It is a Baccarat crystal carafe and when a specimen would turn up on an auction, the price will surely surpass $2000.  Inside is a 'very fine liqueur cognac'.
It came in a beautifull blue Martell box with satin clothing inside.

Cordon Bleu Centenary Limited Edition

To celebrate the hundreth birthday of the iconic Cordon Bleu, Martell also issued a limited edition.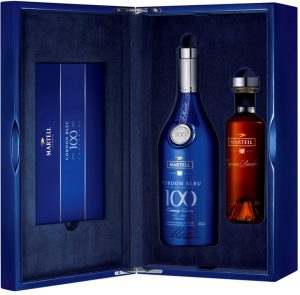 In a beautifull giftbox, adorned with hundred silvercoloured metal squares sits a blue lacquered bottle with a silver neck, top and seal and a sample bottle containing hundred percent borderies cognac.
In the big bottle is of course a blend of grande champagne, petite champagne, borderies and fins bois like any other cordon bleu.
On the box some key historical dates are engraved relating to Cordon Bleu.  It has a magnetite opening system. Only 600 gift cases were made. Costprice: $560.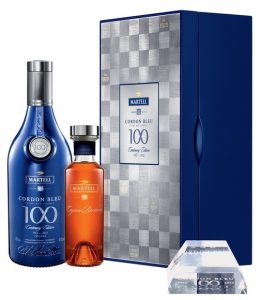 Métaphore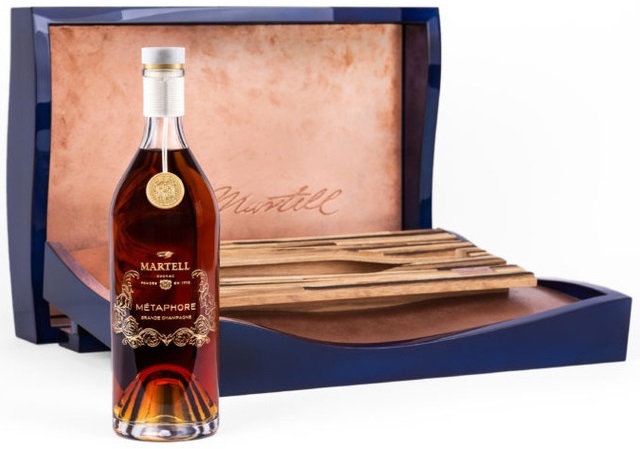 This beautiful bottles was made in 2018. It is a one-off. It contains a blend of four very old cognacs, one from 1898 and the other three between 1911 and 1920. The case in which the bottle is presented is a master piece. It has taken four years to create andd is a design by cabinet maker Thierry Drevelle of les Grands Ateliers de France. The outside in blue lacker was designed by artist Mireille Herbstend the curves reflect the slopy hills of the grande champagne district. The copper work was done by Fanny Boucher. The cradle for the bottle was made of oak.
This one-off bottle will cost you $40.000,-.
Savoir-Faire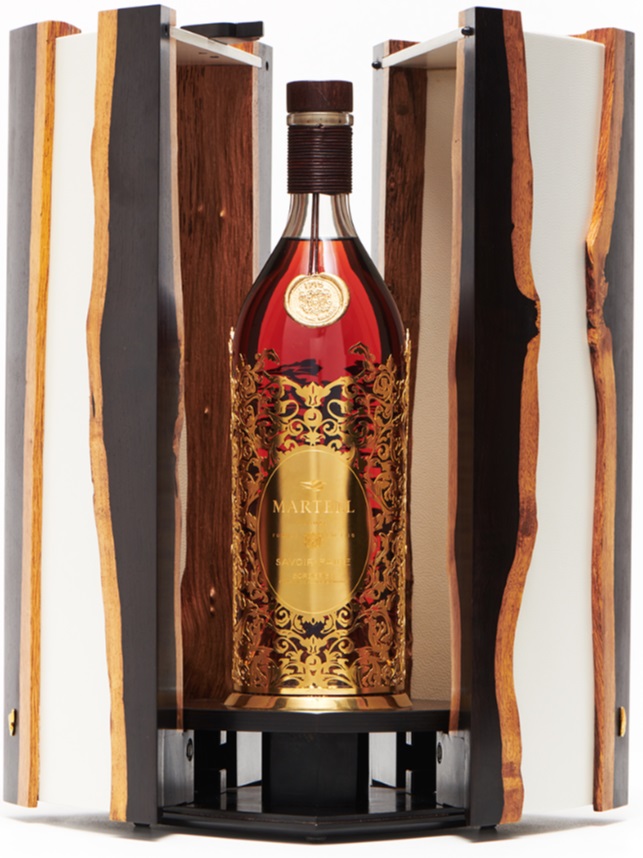 Also in 2018 the Savoir-Faire is produces, a unique bottle, specially made for the Angels's Share auction of 2018. It is an assemblage of borderies, made by the five last maîtres-de-Chai of Martell. Estimated price: €20.000,-.
Queens Decanter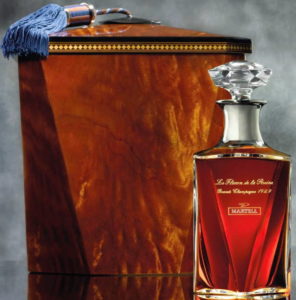 The Queen's decanter was made in 2014 to be autioned at the Part des Anges charity event. veiling. The bottle was inspired by the Cordon Blue decanter that was presented to the English Queen Elisabeth in 1957, hence it's name.
The cognac is 1929 grande champagne and the decanter is made of Baccarat cristal.
The case is made of bur mahogany with a delicate marquetery inlay and an interior of East indian satin wood. It's worth is to be estimated around €10.000,-.