Joseph Guy, brand name owned by Herman Jansen and produced by Louis Royer.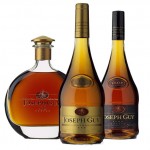 The origin of Joseph Guy cognac is shrouded in quite a bit of mystery. The contradictory information on Joseph Guy's website doesn't really help either. The Dutch version of Joseph Guy's site, for example, shows that a Dutch enthusiast sought collaboration with Joseph Alexandre Guy IV in the mid-20th century. On the French and English version we find a slightly different story.
(update 2021: the site has changed, English and French version are no longer online)
It is very likely that Joseph Guy was put on the Dutch market in the early sixties by Bols, who bought the name Joseph Guy from Vieille Cure in 1962.
Joseph Guy was taken over in 2001 by UTO (Uit Tegenweer Opgericht), a Dutch company from 1777, owned by the Jansen family. In 2011 there was a name change and UTO was renamed Herman Jansen.
But Joseph Guy is older than that. The name Joseph Guy comes from the father-in-law of a Frenchman who bought the Métairies distillery in the mid-19th century. This Frenchman was married to a daughter of Joseph Guy. The distillery was merged into Cordial-Médoc and later became the property of the Vieille Cure company. The history of this distillery goes back to about 1770. In 1977 the distillery was still active. It seems that nowadays a Bed & Breakfast is located in it.
Joseph Guy is now produced by Louis Royer. It is a blend of Fins Bois and Bons Bois and a little bit of Petite Champagne. Caramel and sugar are added.
The Range consists of a VS, VSOP and XO.
Joseph Guy is only exported to the Netherlands and is not sold in France either. There is a modest export from the Netherlands to a few other countries, including Belgium, but not to France.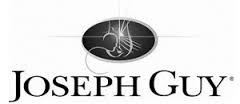 http://www.josephguy.nl/
Address: Zijlstraat 2, 3111 PS  Schiedam. Telephone: 010-4091000 (NL). (No information about visits available.)