Landreau, bouilleur de
Cru

in Verdille (fins bois)
[Not to be confused with Landreau in Criteuil-la-Magdeleine, nor with Christian Landreau who makes the Logis de Montifaud brand].


Little information can be found about Landreau. The house was founded in 1893 by Marcel Landreau. Previously the house was called Landreau-Maurin. Initially they only sold fins bois cognac, but more recently we also see grande champagne cognac from this house, especially the Très Vieux and XO.
They distil themselves.
Jean-Louis Landreau is the current owner.
Update 2021: current owner seems to be Nicole Gonnord (probably born Landreau).
Range: Fine (fins bois), VSOP (fins bois), Hors d'Age (fins bois), Très Vieux (grande champagne), XO (grande champagne).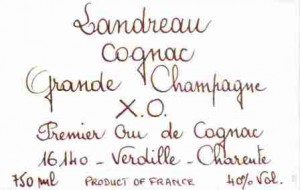 No known website.
Address: Domaine de Guignefolle, Guignegolle, 16140 Verdille, Telephone 0545 211515 (no information is known about visiting possibilities).