LOUIS XIII
Rémy Martin is probably the only one of the leading cognac firms to have had a very expensive and luxury cognac in its assortment ever since the 19th century , viz. the Louis XIII. It was first produced in 1874. Back then it was made at the Verrerie Royale de Saint Louis in Münzthal, but since 1936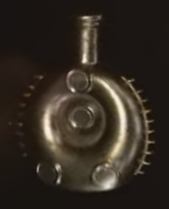 it is produced at Baccarat and of course made of crystal (though sometimes bottles re still ordered at St. Louis for the Asian Market).
The bottle was designed after a metal flask, found and excavated in 1850 by a local farmer on the site of the Battle of Jarnac that took place in 1569. The bottle was bought in 1860 by Emile Rémy Martin (some say 1850), who donated it to the Musée de Cluny in Paris. By the way, originally the name of the bottle was not Lous XIII. It was sold under the name 'Age Inconnu'.
The picture above on the left is probably from 1870. As you can see the 'Fleurs de Lys' are not upright but each lily is oriented differently.
Rémy Martin is known to make Fine Champagne cognacs, a blend of at least fifty percent grande champagne and the remainder petite champagne. Louis XIII hoewever is a hundred percent grande champagne. They are made out of more than a thousend different grande champagne eaux-de-vie, at least 35 years old to up to 100 years.
The price for a bottle is less exorbitant as you might expect: around $2.250.

LOUIS XIII JEROBOAM IN A TRUNK
In 2011 the Jeroboam was presented to the public in a trunk. The decanter is made of The Sèvres crystal, weighing 5 Kg, and the neck is made out of 24 ct gold. With the bottle came a large metal pipette, four crystal snifters designed by Christophe Pillet and a book covering the history of Remy Martin and its Louis XIII. On the top of the chest is a platform with glorifier to showcase the decanter. The price was $23.000 but has gone up.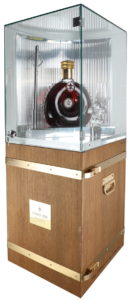 BLACK PEARL
In the year 2007 an other bottle is presented to the public, the Louis XIII Black Pearl. Its appearance is inspired by the original Louis XIII, but it has a very dark colour. With the right lighting is seems to have a smokey black colour.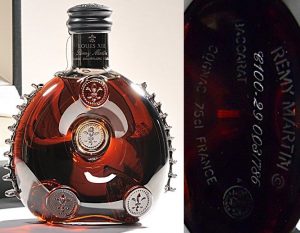 786 Bottles were made of this first edition of the Black Pearl and they were all taken from a single 'tierçon' C.100-29 from the reserves of the Hériard-Dubreuil family. The eaux-de-vie in this tierçon were from 40 up to 100 years old. Special techniques were used to make this hand-blown Baccarat crystal bottle. Multiple layers of costly metals (titanium, gold) and carbon were layered upon one another that gives it a beautiful reflective quality with myriad subtle contrasts of light and dark dancing across its surface. It also makes the bottle remeniscent of the original metal flask. Before 2010 prices were around $8.000, but nowadays if one is offered for sale then they are skyhigh.
In 2008 already a new Black Pearl was released. Now in a limited edition of 358, but a magnum edition. It was from tierçon C.100-46. Both these Black Pearls have "Louis XIII Rémy Martin Grande Champagne Cognac" written on their neck. Prices before 2010 varied between $11.500 and $20.000, but are now much higher, if it is at all possible to buy one.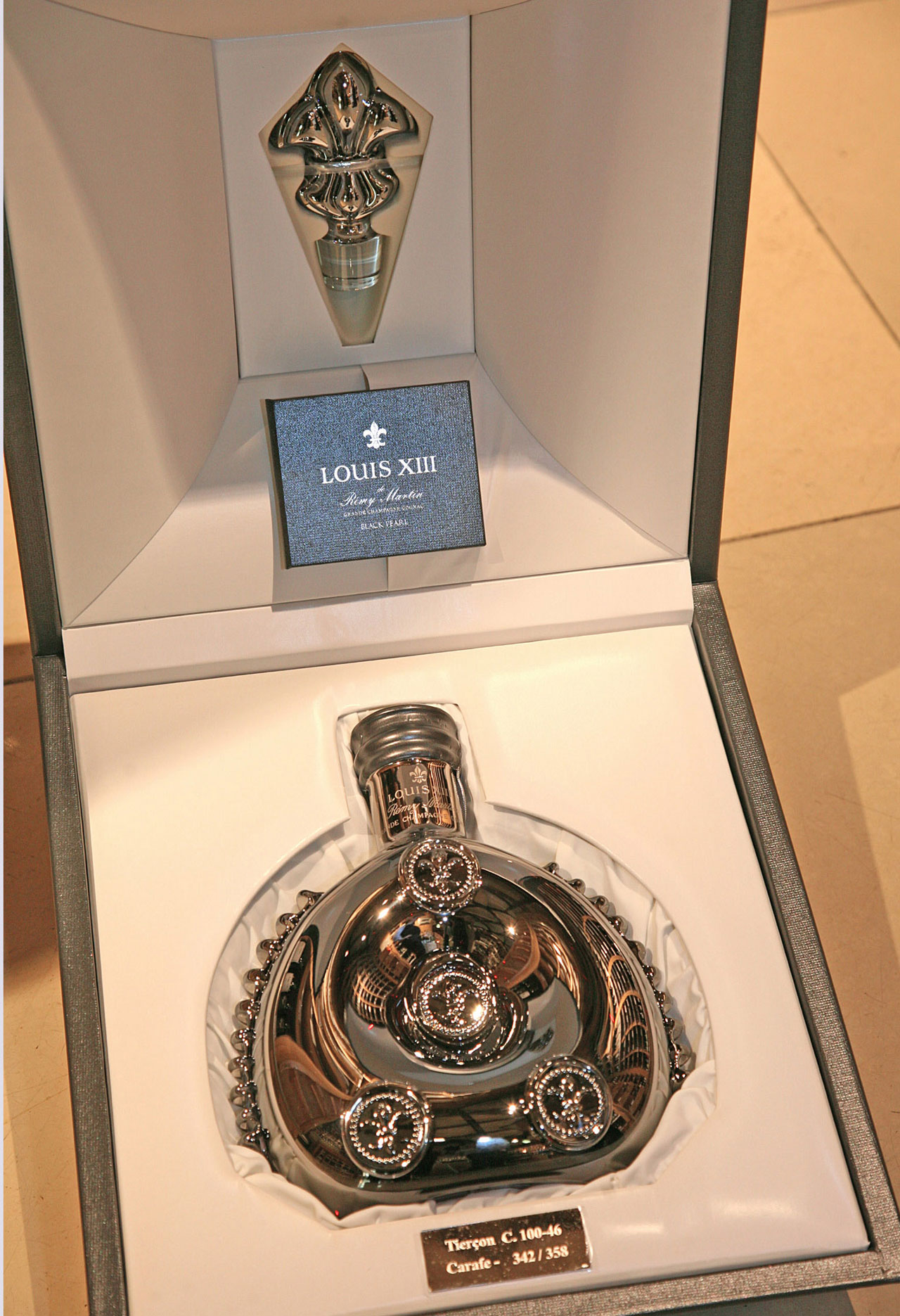 In celebration of the 140th anniversary of the Louis XIII, Rémy Martin released the Black Pearl Anniversary Edition in 2014. This time 775 decanters were made, coming from tierçon C.100-93. On the neck it says: "Louis XIII Anniversary Edition". Prices vary between $11.250 en $22.500.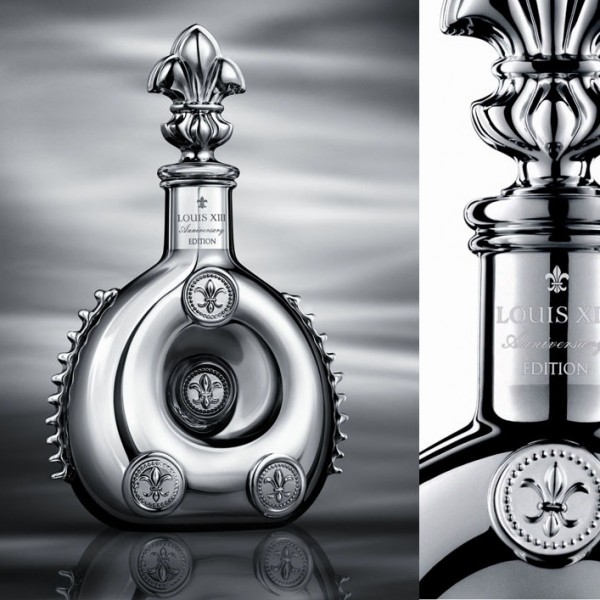 RARE CASK
Two bottles that are very similar in appearance to the Black Pearl are Rare Cask 43.8 and Rare Cask 42.6. These casks were 'discovered' by cellar master Pierrette Trichet. In 2004 she made her first 'discovery', but it took her another four years before she was really convinced of the outstanding quality of the cask. Production then started in 2008 and in 2009 the Rare Cask 43.8 appeared on the market, 43.8 being the alcohol percentage.
The second cask was found in 2009 and it likewise took a few years before it was produced in 2013 under the name of Rare Cask 42.6.
On the bottle's neck it reads: 'Louis XIII Rémy Martin Rare Cask'.
Besides the difference in alcohol percentage other differences are the colour of the neck, the colour of the bottle itself and the casing. The 43.8 has a silver-colour neck and is made of  palladium, the 42.6 is made of 22K rose gold. The 43.8 bottle is slightly darker in colour than the 42.6. The 42.6 bottle comes in a sliding double-door presentation box that activates a subtle display of light on the crystal details within when it opens.
Nowhere on the bottles is stated what Cru or cru's the cognac are made of. Considering all Louis XIII's and Black Pearls are grande champagne cognacs and considering the price-tag you may assume they also are grande champagnes, but on one website I read the 42.6 was a petite champagne. Surely that must be a mistake.
Prices: 43.8 for $15.000 and up; 42.6 for $22.000 and up.
Overview of the Black Pearls and Rare Casks
| Name | type | Year | tierçon | Number of bottles produced |
| --- | --- | --- | --- | --- |
| Black Pearl | 1st edition | 2007 | C.100-29 | 786 |
| Black Pearl | Magnum (1,5 Liter) edition | 2008 | C.100-46 | 358 |
| Black Pearl | Anniversary | 2014 | C.100-93 | 775 |
| Rare Cask | 43.8 | 2009 | | 876 |
| Rare Cask | 42.6 | 2013 | | 738 |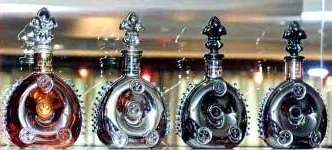 A regular Louis XIII, a Black Pearl, a Rare Cask 43.8 and a Rare Cask 42.6. successively.