Hennessy Extravaganza
Beauté du Siècle
The Hennessy Beauté du Siècle (click on the pictures to see them in their full glory!)
This bottle was made in honour of Kilian Hennessy's hundreth birthday (1907-2010). Kilian Hennessy was managing director of Hennessy from 1945 till 1975. Afterwards he stayed on as a member of the board and he has been of great importancefor the company. He has been responsible for the merger with Moët & Chandon in 1971 which eventually led tot the creation of the LV-MH group in 1987 of which he became honorary president.
The beautiful ches is made of wood, richly adorned with melted aluminium and mirrored glass, with two coloured beads of Venetian glass on top that were made by the people of the Salviati workshops. The chest was designed and produced by the French artist Jean-Michel Othoniel. To open the chest a bronze key is used whereafter a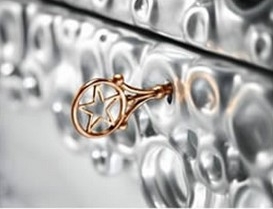 concealed switch is triggered that brings up a beautiful tray with a Guerlain designed carafe of cognac and four Murano glasses with gold leaf in their stems.
The cognac itself is a blend made by the famous Maître de Chai, Yann Fillioux, and consists of 50-100 years old cognacs, the oldest of which dates back to 1907. The bottle is made of Baccarat crystal and is encompassed by circles made of aluminium.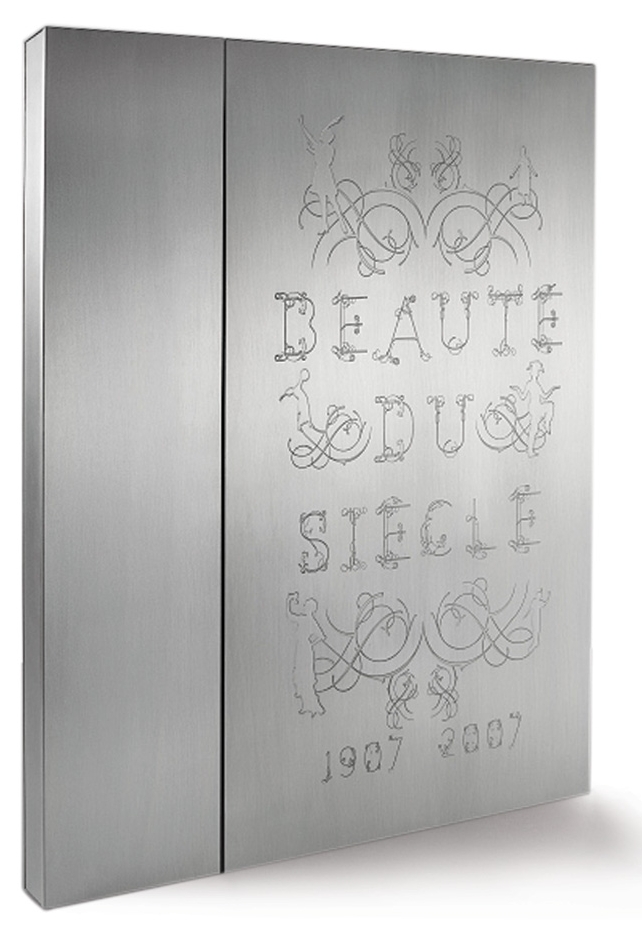 Underneath the chest is a secret drawer that helds a luxurious album made by Toluca Editions with portrets of famous and elegant women from the Belle Epoque, including Mata Hari and Mistinguett.
One hundred pieces were made, one of which is of course given to Kilian Hennessy and one is presented to Queen Elisabeth to sell by auction for charity (Aids). One piece is exhibited in the Nichidou gallery in Tokyo.
Meanwhile several of them are already sold to cognac-lovers in Europe, Asia and America. Price: $200.000.

Richard
Beside the above mentioned extravaganzy Hennessy has also made some other expensive bottles. For a long time the Richard was the most expensive one in its collection. $3.000, but a very beautifull bottle.!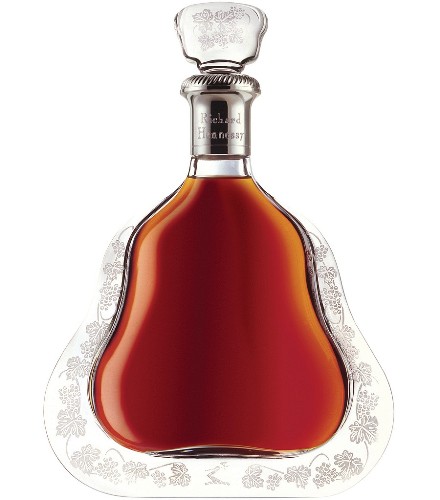 Very recently two other exceptional bottles have joined the elites: in 2014 the Édition Particulière and in 2016 the Hennessy 8 Limited Édition.

8 Limited Edition
Yann Fillioux is the seventh maître de chai at Hennessy who has been recruited from the Fillioux family. Prepairing for his retirement he has found a successor in his nephew, Renaud (Fillioux) de Gironde, who will become the eight generation of the Fillioux family to become a cellarmaster at Hennessy. To commemorate this event Yann has created the Hennessy 8 Limited Édition. It saw its light in February 2016 and will cost you $40.000.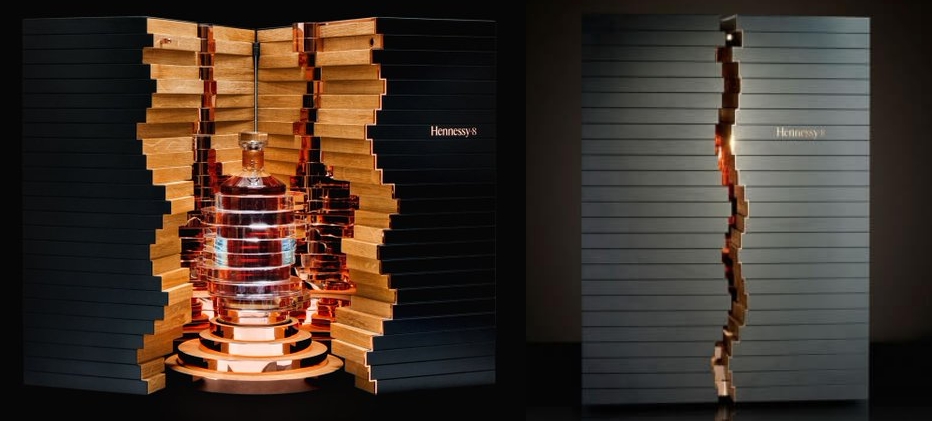 Eight heavy Baccarat crystal rings encircle the bottle that likewise is made of Baccarat crystal. The stopper on top is beautifully adorned with an engraving of floral motifs. The neck has a copper coloured silk ribbon around it, sealed with a medaillon with an 'H', made by Maison Guerlain. The eight rings represent the eight generations of Fillioux on the outside. On the inside the blend itself represents the eight generations, being made of eight different eaux-de-vie, seven of which are selected by Yann and the eight by Renaud.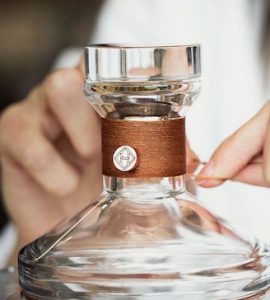 The designer was the contemporary Israeli artist Arik Levy. He made the casing out of oak with a copper inlay, a nod to the wooden casks and to the material used for a pot still or alambic. The wooden casing consists of 25 layers, each layer representing 10 years of Hennessy's history. The oak comes from La Sarrazine, the Hennessy cooperage.
Each carafe and each casing is individually numbered by the artist. Each package comes with four tasting glasses designed 30 years ago by Yann Fillioux in collaboration with Riedel, a numbered certificate signed by Yann Fillioux, a personalized authentication plate, a key, a pipet with a wooden handle, a wooden corkholder and a book on the spirit and genesis of the Hennessy 8 Limited Édition.
The edition is limited to 250 pieces and already some of them are sold. But be aware: the carafe weighs 60 kg!!
In 2022, a new version of the Hennessy 8 saw the light of day, the only difference being that it was made with NFT (blockchain) technology and that the price went up to a staggering $250,000. They used the numbers 1 and 250 of the original series from 2016, so only 2 are available.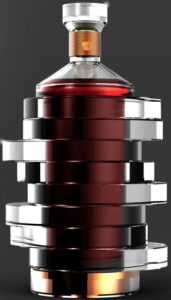 Edition Particulière
Édition Particulière saw the light in 2014. Only 29 specimen were made of this special bottle. It contains a blend made out of very old eaux-de-vie, including a more than a century old cognac from the year 1900. The bottle is made of Baccarat crystal and is sealed with a handcrafted seal from the Maison Guerlain. The presentation box is made of white leather and is handmade. It costs $27.000.

Timeless en Ellipse
Timeless and Ellips are two other Hennessy cognacs that should not be left unmentioned. They look very much alike: both are in a beautifully designed crystal bottle, designed by Thomas Bastide of the Baccarat firm; and both are just a little bit high in percentage of alcohol: 43,5%. The Timeless came in 1999 and pretends to stand for past and present of the company. It is a blend made of eleven different eaux-de-vie.
Ellips is from the year 2006 or 2007 and is a composition of seven different cognacs, representing the seven generations Fillioux that have served as a cellarmaster with Hennessy. The seven vintages that were used are: 1830, 1848, 1875, 1932, 1947, 1972 and 1995.
When they first appeared on the market their prices were roughly the same: Timeless $14.000 and Ellipse $13.000. Timeless came with an unusual packaging and with a stopper; Ellipse just with the stopper, but packages in a grey box.
First two are Timeless, the other two are Ellipse.
Hennessy Paradis Imperial x Louis Vuitton trunk
Hennessy and Louis Vuitton are already together in the LVMH conglomerate since 1987. But only now, in 2019, the first commercial collaboration between the two sees the light: a handcrafted leather trunk with Hennessy Paradis Imperial cognac.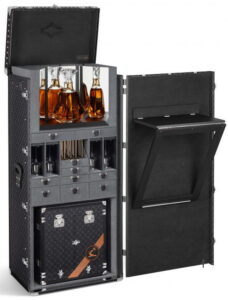 The price is €270.000,-.
It holds four magnums of Paradis Impérial cognac along with a smaller Nomad Case and all the necessary utensils.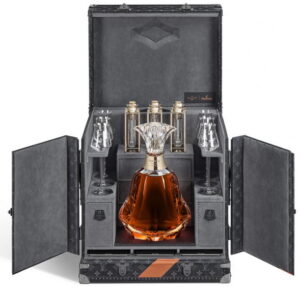 The little travelling case is also available as a stand alone: around €82.000,-
150 Years XO
Produced in 2021 and designed by Frank Gehry to celebrate 150 years of XO. This bottle is made of Baccarat crystal. Is is a Mathusalem (6 litres) and only 30 pieces are made.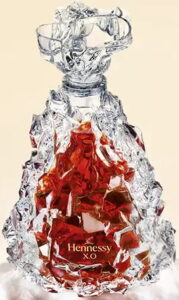 The bottle weighs 30 Kilos and costs €150.000.

Dame Jeanne
This is an ultra limited edition, only two 10 litre Dame Jeanne's are made. The round-shaped bottles are surrounded by a woven net. The bottles can be personalised by choosing the colour of the leather and the stitching, as well as a seal with 24-carat gold lettering.
The cognac is a unique blend of eaux-de-vie by Renaud Fillioux de Gironde, the House's master blender.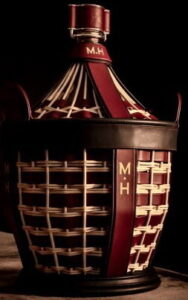 When you buy the dame jeanne, it will be empty. The cognac will be delivered separately, in ten one-litre crystal bottles. One dame-jeanne with the cognacs included costs €600.000,-.
Basketball Paradis
To celebrate the 75th anniversary of the NBA in 2022, Hennessy teemed up with Lorenz Baumer. The result is this stunning container in the shape of a basketball, made by Baccarat. It is hand made, multifaceted, with gold painted stripes.  It holds 1.75L of Paradis cognac.
It comes in a wooden box, covered with orange leather, that can be opened with a golden key. The key also opens the bottle itself. It is accompanied with two round glasses, also shaped like a basketball, and a pipette.
75 Copies were made for a staggering price of $150,000.-