Planat, now a family business again.


In 1828, Charles-Abel Planat founded his cognac trading house in the town of Cognac. After his death in 1858, he was succeeded by his son Oscar Planat. His sister Claire inherited the company in 1889. She leaves the company to her son, Marquis de Saint Légier, and her son-in-law Comte de Grandsaignes. After the death of Marquis de Saint Légier, Grandsaignes starts a partnership with Joseph Pionneau. In 1932 Joseph Pionneau's son continues the company until Camus buys it in 1966.
In 2018, Camus transferred the business to the Soerlie and Nau families to become an original family business again. The Nau family owns the Société des Vins et Eaux de Vie in Gensac la Pallue.
Until the late twentieth century, when it already belonged to Camus, Planat made interesting cognacs, such as some appealing single Cru's and vintages. The current range is limited to blends.
Range (blends): VS, VSOP Virgin Oaks, 10 years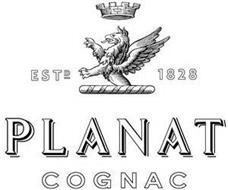 https://www.cognacplanat.fr

Address: 2 Impasse de la Gare, Gensac-La-Pallue. Tel. 0546-046008. No information about visiting possibilities.