Sauvion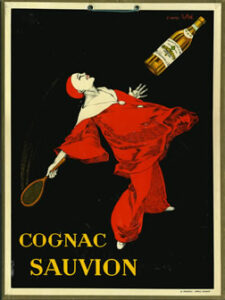 Sauvion was founded in 1835 by Pierre Sauvion. He was succeeded by Isidore Sauvion, hence the brand name I. Sauvion.
Sauvion had a distillery in the city of Cognac, probably in the Rue Pascal number 5.
His daughter, Berthe Sauvion, married Georges François Mainguenaud, who signed for the deeds of the brand names from about 1900 to 1940. Their daughter, Suzanne Marie Mainguenaud, married Louis Rouyer-Guillet in 1920, so the Sauvion brand eventually ended up at Rouyer-Guillet, which is now part of CCG, Compagnie Commerciale de Guyenne.
The last bottles of Sauvion were produced in the 1960s.
Other brand names that were in the possession of I. Sauvion:
G. Tissot
F. Cylan .
E. La Vergne
Georges Bruns
M. Lizot
S. de la Barrière
G. Telle
Georges Clicot
Gaston Fontaine
L. & J. Montcalm
Alexis Piron
M. Montaigne
La Fayette
Rochambeau Frères
Napoléon Vendée
Hanasse & Fils
Vve Roux
Léon Gravier
Jules Pasteur
Des Arcades
Montaigu
Henri Mollard & Fils
John Montana
Amiral de Ternay
Gaston Chevalier
B. Napoléon
Dyhring Frères
E. Avion
Morisette & Fils
Chambertin & Fils
Napoléon Legrand
E. Lablague
C. Chatelain
M. Bérard
Félix Faure & Fils
Voltaire
Sadi Carnot
A. Dulac
Roger Morton
Duval Fils
Cognac Chantecler
House of Lords
Alfred Douglas
H. Bonnaud
Bourdon & Bossaguet
René Jobit
Rolland Frères
L/ Arnaudon
W. Jedlinski
Roger Morton
Silver Bell Brand
Double Anchor Brand
King's Own
Ed. Taylor
Henry de Bois
Green Leaf Brand
Golden Star
Golden Gate
Health
Ch. Coutellier Fils
Ed. Gousier Fils
G. Guisset Ainé
Eug. Perrieux & Fils
Six O'Clock
Mercier Cognac
Mercier Roger & Co.
J.A. Broutignon
Georges Wallace & Sons
Léon Sambier
Loriaux Frère
Bertin Fils
Gold Mohor d'Or
Cognac Virgan
Priollaud
Prince Chevalier