Rouyer Guillet, formerly a trading house in Saintes, now a trademark of CDG group in Cognac,

Very old company that originated in the town of Cognac and moved to Saintes in 1801. After 1900, little by little, they took over almost all the companies in Saintes.
From 1992 it became part of CCG. The Chateau Guillet in Saintes is still in the hands of the family as is the Chateau de Rochemont in Fontcouverte, near Saintes.
1701 According to the labels, the Guillet brand was founded in 1701 in Cognac. Philippe Guillet was mayor of Cognac in 1687.
1801 Rouyer and Guillet started working together as a result of a marriage. The name became Rouyer, Guillet & Co. Later the name became Rouyer-Guillet. In 1801 the company moved to Saintes.
1992 Became part of CCG.
The family owns vineyards in the Borderies and in the Fins Bois. They also buy in the other Cru's.
As far as we know, Rouyer Guillet is still for sale in XO quality and Napoléon (Cheval Soleil).
With some regularity, old bottles of Rouyer Guillet are still offered at auctions. The vintages are particularly popular.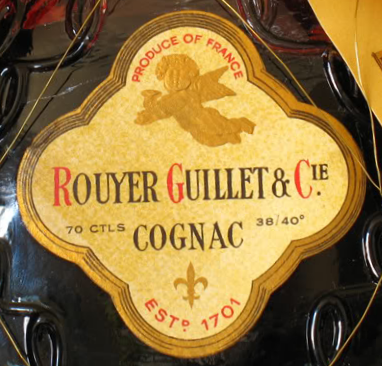 Other (brand) names owned by Rouyer Guillet or under which Rouyer Guillet has sold cognac in the past (CCG itself has many other brands, such as Meukow and Brugerolle)
Bacot (O. & T.)
Bourbon & Boussaguet
Brassart, Paul
Coutanseaux Aîné
Guillet
La Grange
Hautebar
Hauteneuve
F. Lapoire
Larive
Jules Lefranc
Marcelain & Co., R.G.
J.R. Martin
Roger Mercier
William Morton
Oranco
R.G.B. Cognac
Rochemont
Rochemond
Sauvion
(no website; visiting: see Meukow of the CDG group)