Meukow, brand owned by le Compagnie de Guyenne in Cognac; before: cognac firm in Cognac

About 1900 this company enjoyed a very good reputation and was a supplier for The House of Lords in England and for The White House in the USA.
Nowadays Meukow belongs to the CCG group (Compagnie Commerciale de Guyenne or Compagnie De Guyenne, CDG) and it is the flagship of it.
Established in 1862 by two brothers, Auguste-Christophe and Gustave (Karl) Meukow, together with another partner, Lervoire.
1865 Lervoire passes down his shares to Henri Bouraud, who became partner.
In 1874  Bouraud handed his share of the company to the Scotsman Thomas Alexander Shepherd. Thomas Alexander Shepherd was born in Adelaïde, Australia where his father, Thomas Shepherd, had made his fortune. In the late 1830´s he had bought  a large plot of land in a time when Adelaïde was just beginning to develop. He built the Marybank house, that still exists today.  Around 1850 the family returned to Scotland.
1878 Auguste-Christophe Meukow died. In consultation with the heirs Shepherd acquired full ownership of the company.
1880  Shepherd handed the company over to Gustav Klaebisch.
1899  (about) Meukow launched 'Cognac Grande Champagne, marque Napoléon'. But it was Courvoisier who exploited the image of Napoléon in the first half of the twentieth century from a marketing perspective.
In 1914  the French State seizes the company from Klaebisch, because he was German. In this period Meukow is one of the biggest cognac houses. The new manager for Meukow is Harold Butler.
After the war in 1918 the widow of Thomas A. Shepherd acquires the ownership from the French State. Harold Butler remained manager for more then fifty years; he also becomes a shared owner.
Duncan Lauder Sheperd, son of Thomas Alexander, becomes the owner together with Harold Butler.
Around 1940 Duncan Lauder Shepherd and his wife and suns fled to England. His daughter Daphne marries with André Villesuzanne. Together with Harold Butler they continue to lead the company.
1968: Meukow encounters severe financial difficulties. Harold Butler sells his shares to André Villesuzanne, who also inherites the rest of the shares from Shepherd. André Villesuzanne becomes sole owner.
1978: sailes are down to almost zero.
1979: Michel Coste of the CCG-groupe  buys Meukow and revitalises the company.
1995: Michel Coste designs a new logo for Meukow: the panther.
Nowadays the Meukow mark sells as much as in the beginning of the twentieth century.
They possess a rather big vineyard in the Petite Champagne district, but most of their cognac is being bought as eau-de-vie: 70% Fins Bois and 30% from both champagne districts. During the first two years the cognac is stored in new casks of limousin oak; after that the cognac is put in old casks, half of it made of Limousin oak, the otherhalf of Tronçais oak. When necessary they add sugar, caramel and wood extracts.
Range of cognacs:
VS this used to be a fine champagne; nowadays it is 100% Fins bois.
VSOP (Fins bois), Napoléon, XO, XO grande champagne, Extra.
Also some old cognacs: Rarissime, Drapeau, Fin de Siècle, Nec Plus Ultra, 1964, 1965, 1970 and NPU Baccarat.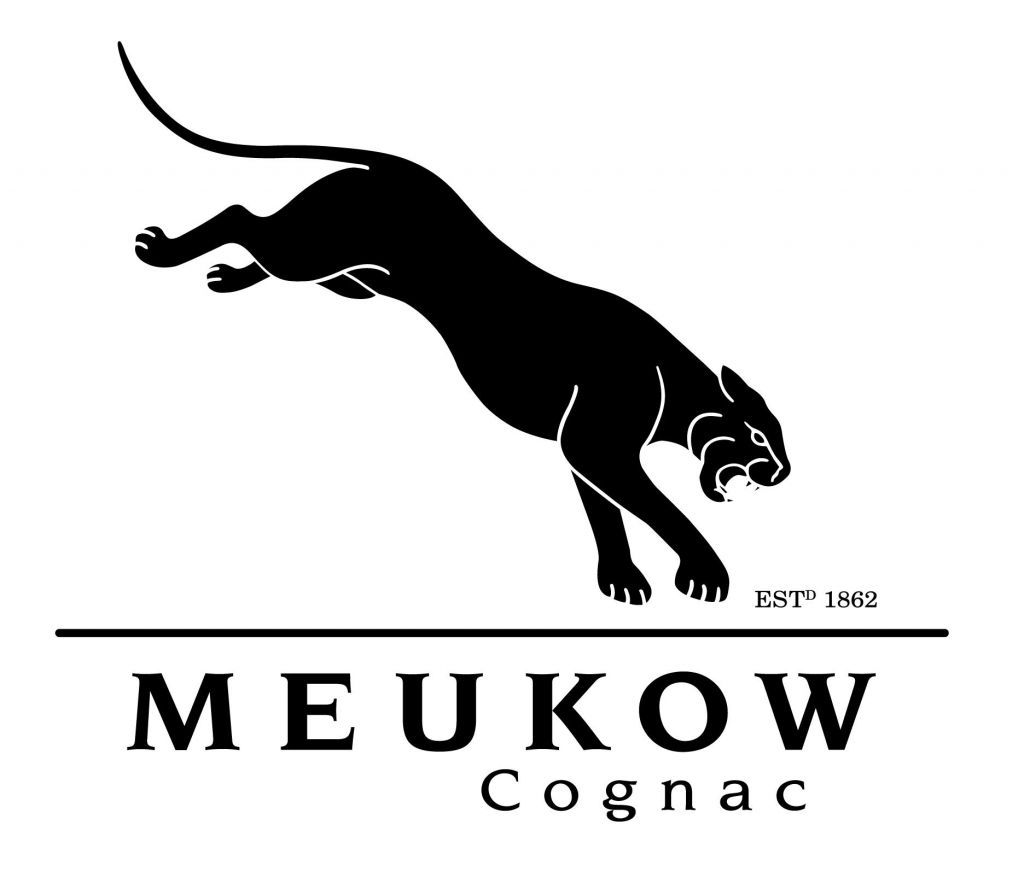 Other marks that belong to Meukow:
–          Comte d'Artim
–          Moullon
http://www.meukowcognac.com/
Address: CDG-group, 26 Rue Pascal Combeau, 16101 Cognac. Telephone:

0545 823210.

Visiting on reservation, monday till friday from 10h00-17h00; off season: monday till thursday 10h00-12h and 13h30-16h; friday 10-11h.