Veuve Baron & Fils, bouilleur de
cru

in Cherves-Richemont (borderies)


The Baron family has lived on Le Petit Coudret domain since 1865. In 1945 Georges Baron's widow started selling cognac privately, not much later assisted by her son Michel Baron. The SCEA Vignobles Baron is founded in 1991 by Michel and his son Jean. Then Antoine Baron takes over management in 2007. Paul and Sophie Baron now also participate in the company.
They currently have two estates, one in Cherves-Richemont (Boussac) covering 34 hectares and the other in Foussignac (fins bois) which is 221 hectares.The current owners are the seventh generation.
They have their own distillery.
Range (borderies): VSOP, Napoléon, XO, Hors d'Age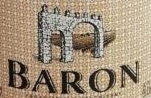 https://www.pineaucognac-baron-et-fils.fr/

Address: Logis de Brissac, 16370 Cherves-Richemont, telephone: 05 45831627 (
visits possible by appointment, sales at home: Monday to Friday 10h-12h and 14h-18h30 and Saturdays 10h-12h and 14h30-18h30
)