Martell Bottle Catalogue PART 2: Limited editions and specials
(262
bottles; but still not complete. Last updated: Sep 11, 2021)
1. VS Limited editions
2. Caractère, Distinction, Artys, NCF
The Artys bottles are 35cl only.
3. VSOP Limited editions
3.1 VSOP:
3.2 VSOP, Paris Style:
3.3 VSOP, La French Touch:
   

3.4 VSOP, other:
4. Noblige and black Tie:
4.1 Noblige:
4.2 Jason Wu Black Tie limited editions:
5. XO limited editions
6. Cordon Bleu limited editions
7. Réserve Borderies
8. Single Estate Collection
All three Borderies (2017)
9. Jubilee editions and other special editions
100 Year Cordon Bleu (2012):
300th Anniversary (2015):
10. Other limited editions
11. Year 2000
12. Cohiba
13. Decanters and Extravaganza:
13.1 Three stars, Classique and vsop:
13.2 Cordon Bleu:
13.3 Reserve and Extra:
          
13.4 Other: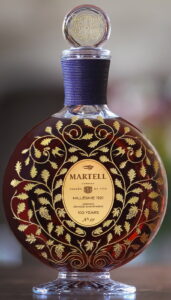 13.5 Martell Extravaganza
The very expensive and extravagant bottles of Hennessy have their own page, where there is room for a more extensive description of the bottles: Hidden Gems, the Pinel & Pinel Trunk, the Chanteloup Perspective Tasting Trunk, the Cordon Bleu Centenary Jewel Edition, the Premier Voyage, Création, L'Art de Martell,  L'Or de Jean and L'Or, the Cordon Argent Baccarat and the Cordon Bleu Centanary Limited Edition
Click on this link to see the Martell Extravaganza page.
Click on this link to see the Martell Extravaganza page in Dutch.
14. Limoges
15. Hip flasks