Denis-Mounié
Denis-Mounié was a medium-sized, well-regarded cognac house in the city of Cognac. They have been the purveyor to King Edward VII. In return they created the Grande Réserve Edouard VII for this.
The most important logo of Denis-Mounié was the ´Gold Leaf´.
1838   Founded by two winemakers, Justin Denis en Henri Mounié: J. Denis and Henri Mounié & Co. (according to another source: 1828)
Around 1934 they started using the Niox brand name for US export and they ended up acquiring Niox after the War.
1977   Taken over by Bénédictine (1969 according to ; 1975 according to James Long).
1982    sold to Hine (1980 according to other sources, 1985 acoording to yet another source).
1987    Hine becomes the property of LV-MH (Hennessy).
2003    Hine is sold to CL Financial group, Trinidad.
2013   Hine is sold to the Nicolas family, a large wine trade from France with branches in Belgium, England, Russia and Morocco.
Due to these last transactions, it is not entirely clear who owns the Denis-Mounié brand now. They are no longer produced. However, old Denis-Mounié bottles still appear regularly for sale online.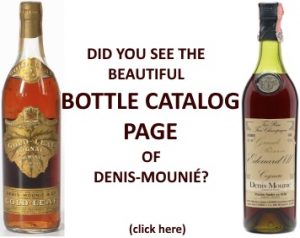 Denis-Mounié was in possession of the following brand names:
          Aguins, A.
          Arnaud, L.
          Gold Leaf
          Baron d'Arcy
          Califet
          Des Carmes (produced by Denis-Mounié)
          Carteau
          Comandon
          Danflou
          Darcy (zie ook Baron d'Arcy)
          Le Drouant (produced by Denis-Mounié for the restaurant)
          Latournel