Denis Mounié Bottle Catalogue

(last updated Oct 30, 2023)
(332 bottles from 35cl and up, but still incomplete)
J. Denis, Henry Mounié & Co. was founded in 1838 by Henri Mounié and Justin Denis. Later the name was simplified to just Denis-Mounié. In the 1970s Denis-Mounié was taken over by Bénedictine and a bit later sold to Hine. They are not produced anymore.

Contents:
0. Introduction to emblems:
Very early they started using the name and emblem 'gold leaf' for their bottles. I have seen an advertisement in the Hobart Town Daily Courier from 1856 were Denis and Mounié's celebrated gold leaf was mentioned. The first use of this emblem probably dates back from 1850, fourteen years prior to the registration of the first name and logo by Hennessy. The gold leaf was mostly used to indicate their lowest grade of cognac, but the image was also used as an adornment on bottles of higher quality. It has been used right up to the end of Denis and Mounié's existence in the 1990s.
In 1908 they were appointed supplier to the Royal Court of King Edouard VII. The brand Edward VII was created in honour of this occasion. The Royal appointment was continued by George V. This was used on their bottles. First as 'Appointment to the H.M. King George V' and after his dead (1936) as 'By appointment of the Late King George V'.
    
And some other recurrent emblems used on the main label:
Different neck emblems; they exist in different colours:

1. Gold Leaf
Gold Leaf has been used by Denis-Mounié from 1850. So their very first bottles could very well have been Gold Leaf's too. It is used to indicate their lowest quality of cognac, comparable with three stars and VS.
1a. Gold Leaf cognaçaises (all have also three stars):
1b. straight bottles with a small gold leaf:
1c. straight bottles with a big gold leaf:
1d. tapered bottles, VSP, with gold leaf written in red:


(VSP stands for Very Soft Pale, which is also written on the leaf)
 
1e. aberrant (shaped) bottles:
2. Stars

3. VS

4. VSOP
4.1 Cognaçaise bottles:

4b. Straight bottles with a gold leaf:

4c. Tapered bottles:
5. Napoleon
6. FOV,

finest old vintage



7. XO
(All older XO bottles have also Napoleon stated)
8. Edouard VII
8.1 Cognaçaise bottles:
8.2 Straight bottles (in between normande and bourgogne shape):
8.3 Tapered bottles:
8.4 Flask:
9. Extra and Hors d'Age Extra

10. Decanters
11. Vintages
12. Limited editions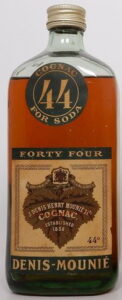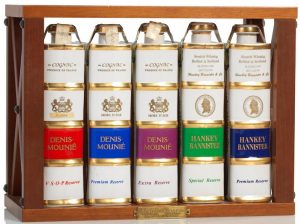 13. Magnums