Age is one of the most important distinctions in cognac quality. Regulation and control thereof has been a matter for BNIC (Bureau National Interprofessionel de Cognac) since 1946. Before then, all this was much less strictly regulated. The age was indicated by

stars, but was certainly not unambiguous. A good example is this 4 star cognac by Coutellier Fils from 1814 that was bottled in 1932 (acquit regional 225 de 26/8/1932).
Today, the main age-related breakdown is that of VS, VSOP, and XO, which stand for Very Special, Very Superior (or Special) Old Pale and eXtra Old respectively. A cognac that is VS has a minimal age of two years, VSOP four years and XO ten (used to be six) and to be more precise: the youngest cognac in a blend that is VS has to be two year or older etcetera.
To keep track of the age of a cognac a system has been developed, the system of the comptes.
Every year each cognac gains an extra compte. At first, the eau-de-vie that has just left the alembic has a compte of 00. When it reaches the date of April 1, it is called compte 0. After that it gains a compte every year at the first of April. After two years of aging the eau-de-vie is allowed to be called 'cognac' and it may be sold as a VS. It has compte 2 and a minimal age of two years, but this minimum can sometimes be up to almost six months older (2 years and six months), when they distillated it already in October.
Other common denominators are Napoléon and Hors d'Age. A Napoléon cognac has a minimum age of six years and Hors d'Age is used for much older cognacs, usually over fourty or even fifty years.
Very often you find different descriptions on the etiquettes of bottles. These are also regulated by the BNIC.
Recently (end of 2018) some changes have been made. A new name is introduced: XXO. This is used for cognac in which the youngest eau-de-vie has aged for a minimum of fourteen years. Some other denominators are not to be used anymore.
Today these are the denominators that are allowed by the BNIC:
COMPTE 2:
3 Stars, Sélection, VS, De Luxe, Very Spacial, Millésime;
COMTE 3:
Supérieur, Cuvée Supérieure, Qualité Supérieure;
COMTE 4:
VSOP, Réserve, Vieux, Rare, Royal, Very Superior Old Pale;
COMTE 5:
Vieille Réserve, Réserve Rare, Réserve Royale;
COMTE 6:
Napoléon, Trés Vieille Réserve, Très Vieux, Héritage, Très Rare, Excellence, Suprême;
COMTE 10:
XO, Hors d'Age, Extra, Ancestral, Ancêtre, Or, Gold, Impérial, Extra Old, XXO, Extra Extra Old.
The denominators XXO and Extra Extra Old are specific names, used for cognacs that have a minimum age of fourteen years or above.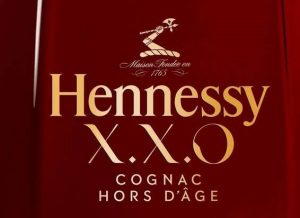 In the past a lot more of denominators have been used and underneath is an enumeration of them.
COMPTE 2
Can be designated by « 3 ETOILES », « SELECTION », « DE LUXE »,
« V.S. », « GRAND CHOIX » or « SURCHOIX », and also:
★(1 star)
★★ (2 stars)
★★★★ (4 stars)
★★★★★ (5 stars)
AMBASSADE
ANNIVERSAIRE
ARMOIRIES
BLASON
BLOND
CARTE BLANCHE
CHOIX DE LA MAISON
CONSTELLATION
COURONNE
CREST (1)
CROWN (1)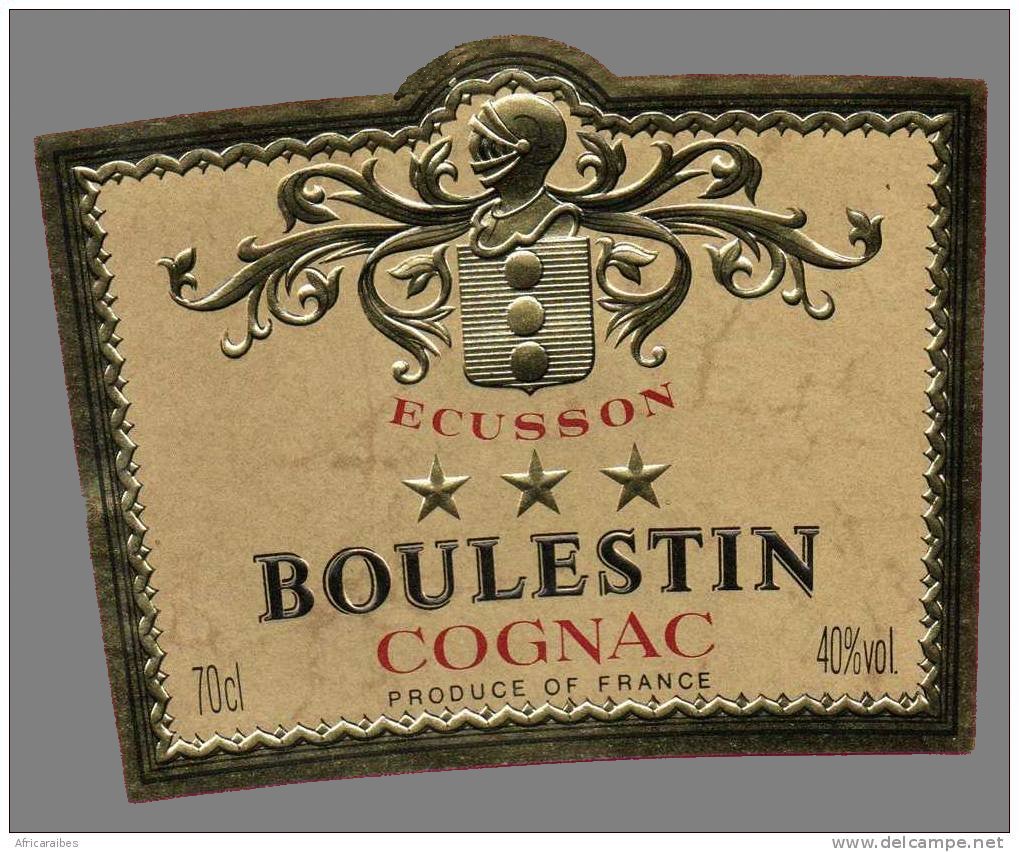 DIPLOMAT (1)
DRAPEAU
DRY (1)
ECHANSON
ÉCUSSON
ÉCUSSON ROUGE
E.L.
ÉLÉGANCE
FESTIVAL
FIN
FLEURONS
GALA
GASTRONOME
G.C.S.
MAISON
MAJOR
MONDIAL
MON GÉNÉRAL
MONOPOLE
MONSIEUR
ONE CLUSTER (1)
ONE SHIELD (1)
PAVILLON
PRÉDILECTION
PRESTIGE
PRIVILÈGE
PROMOTION
QUALITÉ SPÉCIALE
RASSIS
RECORD
RÉGAL
RÉGAL DES GOURMETS
SANS SOUCI
S.E. SPÉCIAL EUROPE
SÉDUCTION
SÉLECT (1)
SÉLECTION ★★★
SÉLECTION DU DOMAINE
SÉLECTION DU LYS
SÉLECTION SPÉCIALE
S.L. SPECIALLY LIGHT (1)
SIGNATURE
SOLEIL
SOUVENIR
SPÉCIAL
SPÉCIAL ★★★
SPECIAL DRY (1)
SPÉCIAL GASTRONOMIE
SPÉCIAL POUR CUISINE
SPÉCIAL POUR FRUITS
SPÉCIAL PROPRIÉTAIRE
SPÉCIAL SÉLECTION (1)
SPLENDID SELECTION (1)
THREE CLUSTERS (1)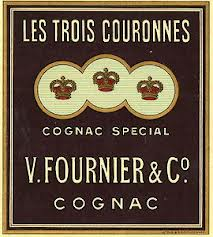 THREE CROWN (1)
THREE SHIELDS (1)
TROIS COURONNES
TROIS DIAMANTS
TROIS ETOILES LUXE
TROIS POIGNARDS
TROPICAL DE LUXE
TWO CLUSTERS (1)
TWO SHIELDS (1)
VERY SPECIAL (1)
V.L.
V.S.S.
And by all similar designations
COMPTE 3
Can be designated by « SUPÉRIEUR », and also by :
ÉTOILES : more then five in a row
CUVÉE SUPÉRIEURE
CUVÉE TRÈS BONNE
GRANDE SÉLECTION
QUALITÉ SUPÉRIEURE
And by all similar designations
COMPTE 4
Can be designated by « VIEUX », « V.O. », « V.S.O.P. », « RÉSERVE »,
and also by:
QUALITÉ RARE
RARE
VERY SUPERIOR OLD PALE (1)
V.O.P.
V.S.O.
V.V.S.
And by all similar designations
COMPTE 5
Can be designated by  « V.V.S.O.P. », « GRANDE RÉSERVE », and also by:
PRIVATE RESERVE (1)
RÉSERVE DE MA CAVE
RÉSERVE DU DOMAINE
RÉSERVE FAMILIALE
RÉSERVE DU LOGIS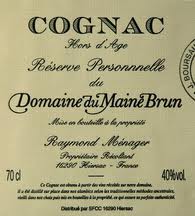 RÉSERVE MAISON
RÉSERVE PARTICULIÈRE
RÉSERVE PERSONNELLE
RÉSERVE (DU) PRODUCTEUR
RÉSERVE DU PROPRIÉTAIRE
RÉSERVE DE LA PROPRIÉTÉ
RÉSERVE SPÉCIALE DU MAITRE DE Chai
RÉSERVE SUPÉRIEURE
RÉSERVE DU VIEIL ALAMBIC
RÉSERVE DU VITICULTEUR
SOUVENIR V.S.O.P.
And by all similar designations
COMPTE 6
Can be designated by  « EXTRA », « X.O. », « NAPOLEON »,
« ROYAL », « TRÈS VIEUX », « VIEILLE RÉSERVE », and also by:
– all designations with the word "OR", its translation or its derivations, or by making reference to an historical character;
– the numbering of the bottles, and:
AGE D'OR
ANCESTRAL
ANCESTRALE RÉSERVE
DE FAMILLE
CASQUE D'OR
CONSUL
COUR IMPÉRIALE
DIRECTOIRE
EXCELLENCE
EXTRA VIEILLE OR
EXTRA VIEUX
FLAMME D'OR
GOLD (1)
GOLD RÉSERVE
GOUTTE D'OR
GRAND AGE
GRAND AIGLE
GRAND SIÈCLE
GRANDE ARMÉE
HÉRITAGE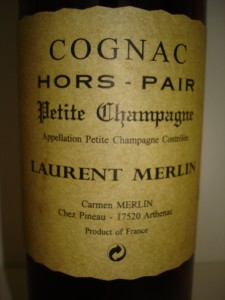 HORS CLASSE
HORS PAIR
IMPÉRIAL
MARÉCHAL
MATHUSALEM
LE MEILLEUR DE LA MAISON
NEC PLUS ULTRA
OLD VINTAGE (1)
RÉGENCE
RÉSERVE DES ANCÊTRES
RÉSERVE DES GRANDS DUCS
RÉSERVE LIMITÉE
RÉSERVE PERSONNELLE LIMITÉE
ROYAL QUALITY (1)
SANS AGE
SANS RIVAL
SÉLECTION DES ANCÊTRES
SUPRÊME
TRADITION IMPÉRIALE
TRÈS RARE
TRÈS VIEILLE RÉSERVE
TRÈS VIEUX
VÉNÉRABLE
VIEILLE RÉSERVE
VIEILLE RÉSERVE ANCESTRALE
X.L.
And by all similar designations
(1) For the French market these terms need to be translated in French.