Pinet-Castillon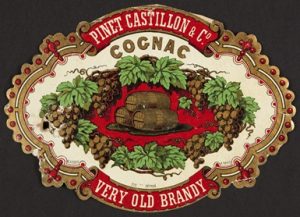 1814 Establishment of Pinet-Castillon in Cognac by Jean Élie Henry Castillon and Henri Pinet.
1947 start of the Three Barrels brand.
1963 Renault  merges with Pinet-Castillon and changes his name into Castillon-Renault (there were already family ties between the two).
1968 the health of Mr. Renault is deteriorating and Castillon is taking over control.
1973 Hennessy buysCastillon-Renault.
1975 Castillon-Renault is becoming part of the Dreyfus groep.
1975 Pellisson buys the Three Barrels brand.
1991 merger of Castillon-Renault with Bisquit-Dubouché. They are going to be called Renault-Bisquit.
The Castillon brand sadly has disappeared in the 1970s.
The Three Barrels brand still exists, but only as a brandy. It is mainly sold on the English market by Raynal (Raynal can be regarded as the continuation of Pellisson ) dat was purchased in 1999 by Patrice Quatravaux.