Briand
[Not to be confused with Jean-Claude Briand in St. Yrieix sur Charente, nor with Gaston Briand whose name is associated with the Marcel Ragnaud brand.]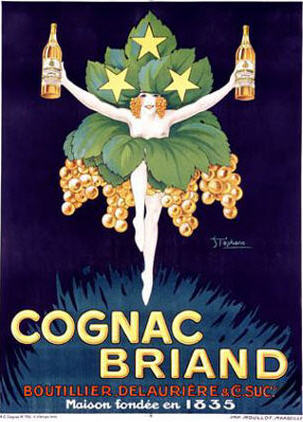 Bottles of the Briand brand still pop up regularly. Briand used to be an important brand. They owned several properties in the city of Cognac.
Established in 1835 by Georges Briand (†1922)
Around 1870 he associated wirh Edgard Boutillier (†1918)
From around 1870 they trade under the name Boutillier, Briand & Cie. The Briand brand continues to exist.
In 1920 Georges Briand withdrew from the business and Jean Briand inherited his shares. Jean Boutillier continues the company, together with a new partner: Robert de Laurière.
In 1922 the company changed the name of the company to Boutillier et de Laurière, but the brand name Briand is retained.
In the sixties the company name became: De Laurière.
1983: the company goes bankrupt and is bought by Jules Robin, who has been a branch of Martell since 1964.
Martell reorganizes in 1988 and a new branch is created: Augier, Robin, Briand subsidiary. The intention is to breathe new life into only the Augier and Jules Robin brands.
Brands that were owned by Briand:
Dugas
Hedouard
Jerôme
Martin
Update May 2023: some descendants of Boutillier have started afresh: Maison Boutillier.