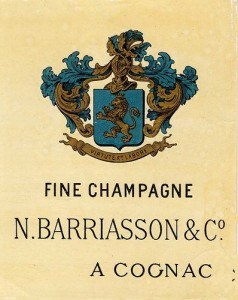 Old brand name of which occasionally bottles still appear at auction. It was produced until about the eighties of the last century.
The brand was sold to Gaston de Lagrange, which is a subsidiary of Otard.
They had beautiful labels that can be seen on the Paul Ronne website.
1850 Date of establishment of N. Barriasson & Co. in Cognac.
1898 Marchand, Lecoq & Co. continue the Barrriasson brand and retain the Barriasson brand name.
1984 Stop of the distillery activities on Rue de Pons 89 in Cognac.
?   Otard buys Barriasson through its Gaston de Lagrange brand.
1991 Martini Rossi buys the Otard brand.
1992 Baccardi buys Martini Rossi.
Other brand names that belonged to Barriasson:
Gréville
De Valle, P.
Floquet
Paul Frères
Soulié