Roullet, bouilleur de
cru

in Foussignac (fins bois)
[Not to be confused with Roullet-Fransac, Merchant in Cognac]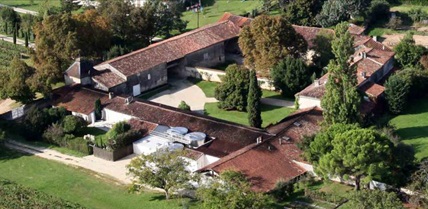 The family already had vineyards in the Fins Bois region in 1772.
The Roullet cognac company was established by Paul Frederic Roullet in 1780. This Paul married in 1778 with a Delamain daughter: Anne Marie-Esther, daughter of James Delamain. (In 1824 Roullet & Delamain was established. These Roullet's were the children of Paul Frederic Roullet and Anne Marie-Esther Delamain.)
1988 The Greene King brewery (UK) buys itself into the company with a 50% share.
2013  Roullet is being bought by the Ladoga Group, a Russian company that was established in 1995. They also are in the possession of the Favraud brand (bottled by the CCG group in Guyenne).
[Both Roullet and Roullet-Fransac boast to be among the first firms to have sold cognac in bottles (others were Denis-Mounié and Jules Robin). This seems to indicate that family ties exist between the two.]
Current manager is Mathias Paul Roullet (9th generation).
They own about 200 hectares of vineyards, 140 of which are in one of the best Fins Bois areas. In the past this area was also called champagne area. Some 50 hectares are in grande champagne and 16 hectares in petite champagne. Besides Ugni Blanc they grow also Colombard and Folle Blanche. They also buy from other cru's. They distil their cognacs themselves. They also own chais in the city of Cognac for stocking and ageing.
Update 2021: now approximately 100 Hectares: 50 grande champagne, 34 petite champagne and 16 fins bois.
The Roullet cognac gamme when they were independant was: VS, VSOP, Réserve, Vieille Réserve, XO Blue Label, Extra Grande Champagne, XO Silver Label, Très Rares (vintage cognacs, numbered by the year of distillation).
Except for the Vieille Réserve and the XO Blue Label most of the cognacs are single cru's.
The current range, under the Ladoga regime, exists of: V.S. Amber Gold, VSOP (grande champagne), XO Royal (fins bois), XO (grande champagne),  Grande Champagne Héritage, Fins Bois Reserve de Famille and the Collection Impériale (1975).
New logo from around the sale date to the Ladoga Groupe.
http://roullet-cognac.com/en/
Address: 27 Route du Goulet, 16200 Foussignac. Telephone: 

0545 361600. (No information available on possibilities for visiting.)