Peyrat, merchant in Cognac
[not to be confused with Distillerie Du Peyrat in Houlette]


This firm was established around 1910 by Henri Peyrat as a commercial enterprise in wines. From 1948 on, when Jean Peyrat takes over, they are more and more leaning towards cognacs. Today Philippe Peyrat is in charge of the company. His daughter Clemence and son Edouard have joined him now and have each their own focus area. They buy wines and eaux-de-vie and have their own pot stills.
There is also some kind of collaboration with Stéphane Burnez – the owner of Prunier Cognac – who helds office on the same address as Peyrat.
They use the following names: Maison Peyrat, Cognac Peyrat, Peyrat SA, Peyrat Associes & Co. and Peyrat.
They produce blends and vintages.
The range of their blends: VS, VSOP, XO, Extra. The last one is a Grande Champagne by the way.
The vintages are single-estate vintages from the following estates: Le Chaigne and Lafont de St. Preuil in Saint-Preuil (grande champagne); La Chambre in Verrières (grande champagne; Le Nègre Bois in Archiac (petite champagne); l'Hermitage (borderies); Chateau de Triac (fins bois), Domaine des Forges (bons bois).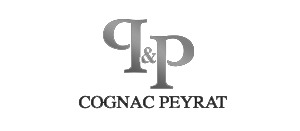 https://www.maisonpeyrat.com/
Address: 7, avenue Maréchal Leclerc, 16100 Cognac. Telehone: 0545 351919. (No information available on visiting possibilities.)