Paulet (Chateau Paulet), former merchant in Cognac, now owned by Renaud-Cointreau

Paulet has for a long time been a reputed family company, but is now taken over by the Renaud-Cointreau group.
1848    established by Jean-Maurice Lacroux in Jarnac (later on they moved to Cognac)
1974    Controlled by Cusenier
1975    Bought by Renaud-Cointreau (Frapin)
The Lacroux family has been active in the company's management untill late in the 1990s. Today the company is led by Jean-Pierre Cointreau.
The very beautiful Chateau Paulet (a.k.a. Domaine de la Couronne) is no longer in possession of the family. It is now a Bed & Breakfast: Logis de Guîtres. The head-office is now in Segonzac at Frapin.
In the past they have produced for the world-famous restaurant Troisgros Frères in Roanne and the well-known department-store Harrod's in Londen. Their vintages were famous, e.g. Sélection Paradis 1895,  Sélection Paradis Fins Bois 1904 and Fine Champagne Château Paulet 1811. Today bottles of Paulet are not much seen anymore.
Gamut: Ecusson Rouge (VS), VSOP, XO, XO Gold, Borderies Très Vieille, Lalique.
Update 2019: website has not been revived for some years now nor do any new Paulet cognacs seem to appear on the market anymore. The inevitable conclusion must be that the brand does not exist anymore.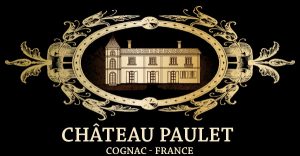 Other brands in possession of Paulet:
Barnett & Elichagaray
Bertrand, Alexandre
Carven
Darvilly & Cie., Vve. (via Geoffroy)
Dubois
Faure
Games & Cie.
Gassies & Co.
The Golden Cognac
Geoffroy
Général de Montrandy
Fromy (via Cusenier)
Lacroux, J. Maurice
Laferrière, Julien
Louval, de
Tricoche & Co.