Distillerie de la Tour, distillery of the Naud family in Pons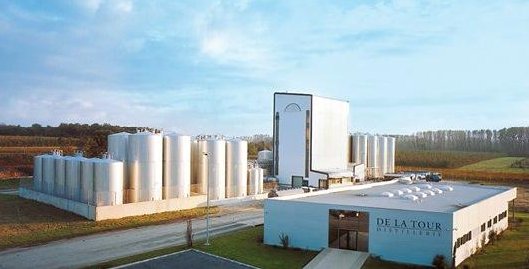 Distillerie de la Tour was established by Jean-Michel Naud who is married to a daughter of Robert Perrier. This daughter inherited the Perrier de Pinthiers distillery in Pons, and with it 12 hectares of vineyard in the bons bois area. In 1989 Jean-Michel built a new distillery very near to the old one. The Perrier brand has disappeared. Grosperrin took over the old stocks of Perrier.
In the 1990s Naud started to diversify: production of alcohol, grape juice and later other drinks such as vodka.
Distillerie de la Tour distils for many bouilleurs de Cru and cognac negociants.
They now have four 'plants': in Pons, Jonzac, Angeac-Champagne and in Le Chail (the industrial area north of Pons).
Not very long ago he started a second company: Maison des 3 Ponts. This company focuses on making wine under the Lepontis label.
They work together with many different partners.
Besides all the cognacs they produce for third parties they also make their own brands: (Distillerie) de la Tour and Sires de la Tour. The Alain Delon brand was also made by them.
(update April 2019: for some time now they also produce the Naud brand. For this the old Pinthiers distillery – not far from their other large distillery – has been revived)
Gamma (Distillerie de la Tour): VS, VSOP, XO.
Gamma (Les Sires de la Tour): VS, VSOP, XO.
Gamma Naud: V, VSOP, XO, Extra