Méry (Méry-Melrose), bouilleur de
Cru

in Salles d'Angles (grande champagne)
[Not to be confused with Méry in Neulles, petite champagne.]
Méry was established in 1946, when Édouard Méry bought the farm that was built in 1851. They call themselves fourth generation because Édouard's wife was Alexander Coudreau's daughter who came to the cognac region in 1911 and who gained a piece of land for himself by hard work. Édouard though started a new farm and vineyard in 1946 in Salles d'Angle. He was among the first to acquire a contract for Rémy Martin.
His son Jean-Paul Méry started to produce and his own brand: Méry. He managed to triple his vineyards in size. They now have 24 hectares.
Today the grand-children of Édouard, François Méry and his wife Janis Melrose, Janis Melrose specialized in organic farming and the two belong to the first wave of organic cognac producers. They use Ugni Blanc, Colombard and Montils grapes. They have their own pot still.
De name of the company is now Méry-Melrose. Besides cognacs they also produce wines.
Range: VS, VSOP, Vieille Réserve, XO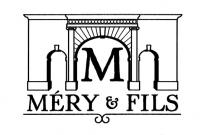 http://www.cognacmery.com/
Address: 6 L'Ebaupin, route de Pruneau, 16130 Salles d'Angles. Telephone: 0545 837121. (opening hours: monday till saturday, 8-19.00h. On sunday on appointment only).