Ménard, bouilleur de
Cru

in Saint-Même-les-Carrières (Grande Champagne)

(latest update: June 2018)


According to the Ménard family, their company is established in 1815, but there are documents that show that the family grew vines and was distilling as early as 1660. Jean Ménard's ancesters worked the land near Salles d'Angles and owned a grape press and a pot still. In 1815 they started for real: growing vines and distilling for the big cognac companies. Around this time they moved to Saint-Même-les-Carrières. During this period the family alraedy had a good reputation as distillers.
After World War II they started producing and selling their own cognacs. But they still supply eaux-de-vie to Rémy Martin and Martell (around 40%).
Todays owners are the two brothers Jean-Yves and Philippe. Stéphane Ménard, son of one of the two brothers, has now joined them. They own 80 Ha, fully planted with ugni blanc. The vineyards are rather scattered over the whle of the grand champagne district: La Voûte near Ambleville, La Chaise in Mainxe, La Lèche in Bourg-Charente and La Cure in Saint-Même; also a piece of land in Saint-Fort-sur-le-Né. Distilling is done on two of the sites, in Mainxe and in Ambleville. Their stocks are kept in Saint-Même-les-Carrières, where they use casks of Limousin oak. Roughly 5% of the casks are new.
(Update June 2018: the La Voûte vineyard has been sold and they now own 65 hectares in total. The distillery in Ambleville has also been sold, so now they only distil in Mainxe.)
Gamma: Sélection des Domaines, VSOP, Réserve Extra, XO and Ancestrale.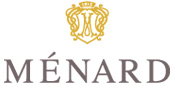 http://www.cognac-menard.com/
Address: BP 16, 2 rue de la Cure, 16720 Saint Même les Carrières. Telepone: 0545 819026. (According to the information from the B.N.I.C. theu are open for visiting, but no further information is available.)