Martell, cognac firm in Cognac

1715 Jean Martell starts the company Martell (an old publication exists in which 1705 is the date of establishment, but Martell self maintains it is 1705).
1753 change of name: Veuve Martell
1753 change of name: Veuve Martell-Lallemand
1775 change of name: Veuve Martell-Lallemand & Cie.
1807 change of name: J. & F. Martell (Jean and Frédéric)

1819 change of name: Martell & Cie.
Mid 19th century: Marie Mathilde Martell marries to Paul Firino: Firino's become chief executive (Firino-Martell).
1838 Martell buys the Chateau de Chanteloup
1919 Cordon Blue is introduced on the market. Martell claims it was 1912, but those were probably forerunners.
1964 Martell buys the companies Jules Robin and Briand.
1988 Firino-Martell selles Martell to Seagram (together with Augier (1643) amongst others)
1988 the Augier Robin Briand subsidiary is created.
2001 Martell is being bought by Pernod-Ricard (Pernod Ricard buys part of the liquor portfolio from Seagram)
Martell: oldest of the Big-four.
In 1726 Martell marries to Jeanne Brunet, daughter of an important merchant family and after her early decease he re-marries to Rachel Lallemand in 1737. When Jean Martell in 1753 dies himself, his brother-in-law Louis-Gabriel Lallemand obtains the lead in the company. He is the one who steered Martell to clear waters in the difficult sixties of the 18th century and who laid the fundation for a stable and durable firm.
Noteworthy are the family ties that exist with the Hennessy family. Jacques Hennssy married Marthe Martell in 1795 and Jean-Gabriel Martell married Lucie-Hélène Hennessy in 1816 (according to other sources he is supposed to have married Marie Hennessy!?).
Today the Firino's are in charge of the company: Marie-Mathilde Martell married Paul Firino mid 19th century. Patrick Firino is the current CEO for Martell.
Until 2016 Benoît Fil was Maître de Chai at Martell. In March he will be succeeded by door Christophe Valtaud.
Update May 2019: in 2018 Valtaud has been replaced by Christian Guérin, who has been maître de chai at ABK6 and who also has been working in Bordeaux (at Chateau Croizet Bages).
Martell owns vineyards in the grande and petite champagnes, the borderies and the fins bois. But still approximately 95% of all the eau-de-vie and wines are bought. More than 2300 vignerons are contracted by Martell.
For their blends they use quite a lot of borderies. Distillation is being done without the lees.
Martell adds the secondes to the next batch of wine to be distilled. Part of the heads are also added to the next batch of wine.
For the aging of their cognac they use Tronçais-wood.
Range (blends): VS, VSOP, Napoléon, Noblige, Cordon Blue, XO, Extra and L'Or de Jean Martell.
The Cordon Blue is noteworthy. This cognac of exceptional quality was created in 1912 and has always been much sought after. It is set up to be a benchmark for superior cognac all over the world.
Other brands in possession of Martell or which have been used by Martell in the past:
Augier Frères
Jules Robin
Briand
Condor (through Jules Robin)
Jules Dumas (through Jules Robin)
De Lannoy (through Jules Robin)
Marquis de Salençon (through Jules Robin)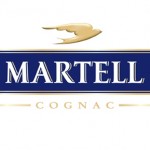 The current logo unfortunately lacks the shield with the three mallets (Martell is derived from the French word marteau, which means mallet) with the bird sitting on top, like on this old etiquette: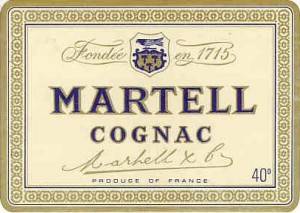 http://www.martell.com/
Address: 7 Place Édouard Martell, Cognac. Telephone: 0545 363333. (Open for visits from april 1 untill october 31, all days from 10-17h, except sundays in october. The shop is open till 18h.)