Logis de Montifaud, bouilleur de

Cru

in Salles d'Angles (Grande Champagne)
[not to be confused with Chateau Montifaud; nor with Landreau in Criteuil-la-Magdeleine or Landreau in Verdille]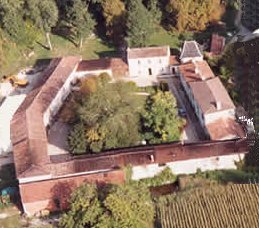 In 1840 Pierre Landreau starts growing grapes in La Métairie near Criteuil-la-Magdeleine. It is his grandson Emile who starts producing cognacs in the nineteen-twenties and enlarges the property.
The Logis de Montifaud in Salles d'Angles is bought by the family in 1959 by Pierre, one of Emile's sons. Emile's other son, Paul, continues the company in Criteuil.
Today Christian Landreau owns Logis de Montifaud, which has 17 hectares of vineyard. They do their own distillation.
Gamma: VS, VSOP, Napoléon, Vieille Réserve, XO, Hors d'Age
Update: they have stopped production on 1/1/2020.

http://www.logis-montifaud.com/
Address: 1, chemin Mauriac, 16130 Salles d'Angles. Telephone: 0545 836745. (Visiting is possible the whole year; on appointment only).