Hennessy, cognac firm in Cognac
1765 established by the Irishman Richard Hennessy together with two compatriots. At first the company was called Hennessy Connelly & Arthur, but it soon changed into Hennessy-Connelly & Cie. They took up residence in the town of Cognac.
1774 association with Saule: Hennessy et Saule.
1778 (Saule dies): Richard Hennessy et Fils. (with his son James a.k.a. Jacques)
Richard Hennessy partners with Sam Turner, a nephew of Delamain, and they name themselves Hennessy & Turner.
1795 James Hennessy (aka Jacques Hennessy) marries Marthe Martell
1800 Richard Hennessy dies and his son James takes over.
1801 Financial problems for Hennessy. Martell comes to the resua with a loan.
1813 Hennessy & Turner split up. James gives the company his name: JAS Hennessy & Co.; both Jacques and James can be shortened to Jas. James Hennessy is considered to be the real founder of the firm.
1971 merger with Moët & Chandon leads to the name Moët Hennessy.
1987 merger with Louis Vuitton, the name changes into Louis Vuitton Moët Hennessy. LV-MH has become the largest conglomerate for luxury consumer goods in the world. The brandname for cognac stays the same: Hennessy.
2009 MHD operational for Japan (collaboration started already in 1988, joint venture as of 2004)
Gilles Hennessy is the vice-president van LV-MH, but since 2004 Bernard Peillon is the new CEO of Hennessy. He started to work for LVMH in 1994.
(Update 2022: in 2020 Laurent Boillot replaced Bernard Peillon as the new CEO of Hennessy).
The master blender for Hennessy, Renaud de Gironde, comes from a famous family line of maître de chais, the Fillioux family. He is the nephew of Yann Fillioux, who retired in 2017. The first Fillioux family member working for Hennessy started around 1800.
Hennessy uses only ugni blanc grapes coming from the first four Cru´s. They buy most of their wine and eau-de-vie from vignerons in Charente and they have contracts with more than 1500 of them. Apart from this Hennessy owns some vineyards of his own and also three distilleries.
Most of the eau-de-vie they buy is not distilled on lees. For the storage mainly limousin oak is being used with more than average toasting. As a result their cognac tastes woody and has a dark colour.
The young eau-de-vie is stored in new wood for the first five months. After this period it is being examined to determine if it needs a dry or a moist storageroom.
Reduction takes place during the proces of marriage using sterilized water.
Range (blends): VS, Fine de Cognac, VSOP, XO, Privé, Paradis, Paradis Impérial, Richard. To see an almost complete survey of all their different bottles you can click here.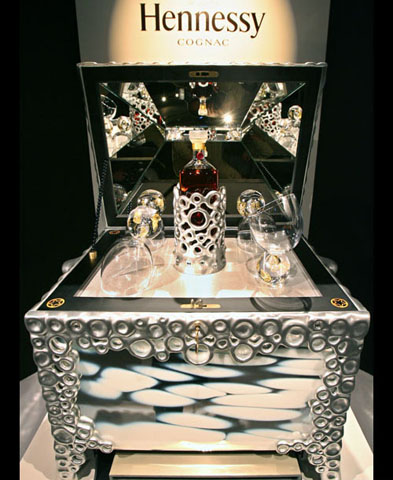 Worth mentioning is the Hennessy Beauté du Siècle, one of the most expensive cognacs in the world (approx. 250.000 dollar), wich has been created in honour of Kilian Hennessy in 2007 for his 100th birthday (Killian Hennessy died in 2010).
Other brands in possession of Hennessy or which have been used in the past by Hennessy:
Barclay

Baron d'Artillon (belonged to Pellisson)

Paul Bocuse (producing for Paul Bocuse; as do Mounier and Croizet)

Camp Romain

Davidoff

Denis Mounié (not any more; owned by Hine since 1982)

Izambard

Pellisson (since 1979)

Le Peu
From 1987 until 2003 LV-MH has also been the owner of Hine and from 1991 until 2003 of Monnet as well, who became accomodated by Hine. In 2003 Hine and Monnet were being sold to CL Financial Group Trinidad.
Hennessy was probably the first to officially deposit its name and logo in 1864 as a trademark. One year later Hennessy introduced the star system to indicate the quality and age of its products: 1 star meaning 1 year of age, 2 stars 4 years and 3 stars 6 years. (Nowadays 3 stars stands for 2 years of age!).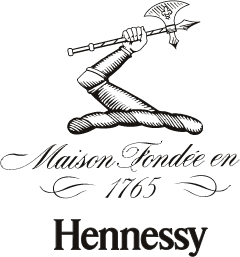 http://www.hennessy.com/int-eu
Address: Quai Hennessy, Cognac. Telephone: 0545 357272. (visitors: whole year open on mon-fri 10.11h and 14-16.30h; in the summer all days open 10-11h and 14-17h; opening hours for the shop are somewhat extended.).