Godet, cognac firm in La Rochelle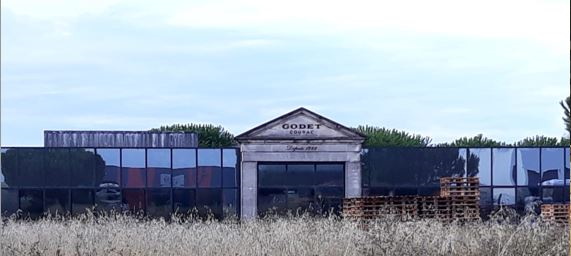 The Godet family originates from Holland. In 1550 – give or take a few years – Bonaventura Godet (Codde) emigrates to Charente-Maritime, near the town of Marennes. His business was the export of salt from the local marshes, but very soon his interest extended towards the trading of wine. In 1730 it is Augustin Godet who moves to La Rochelle.
1782    Gédéon Louis Godet registrates the name Godet as a commercial enterprise, hence this date for the date of establishment.
1838    Augustin J. Godet starts selling cognac under their own name and creates the Godet Gastronome (not 1920 as is stated by some authors, although the recipe has been altered a little in 1920).
1858    Auguste J. Godet marries Louise Hivert, heiress of Hivert & Pellevoisin. Through this marriage Godet not only got possession of the brand Hivert & Pellevoisin but also of the Chateau La Clavier.
1942    The chateau is requisitioned by the Germans and Godet never got it back. At the end of World War Two it burns down.
1984    Godet is sold to the Grand Metropolitan Group (nowadays called Diageo). Jean Jacques Godet stays on as managing director.
1995    Godet buys the company back.
Godet does not possess any vineyards nor distilleries, it buys their cognacs from other winegrowers off all six Cru's, of which a rather big share is grande champagne. They once had some vineyards – from the middle of the 19th century till 1968 – that had come in their possession through the marriage with Louise Hivert, but these have been sold. The Chateau La Clavier was requisitioned by the Germans in World War II but it never came back in their possession afterwards. It was burnt down during that war and afterwards is rebuilt and had different destinations since. Recently it has been thoroughly renovated to become a hotel.
30% Of their stocks ages in new wood. They use Tronçais oak. After one year in young casks the eau-de-vie is transferred into very big 6000 liter casks, so relatively less wood is in contact with the liquid inside. This helps to preserve the natural aroma´s of fruit and flowers.
Godet also loves the taste of the Folle Blanche grape variety and although this variety is very vulnarable for disease and is not much used anymore in the cognac industry, Godet still buys a substantial amount to use in their blends.
The current owners of Godet are now the three brothers Jean-Edouard, Maxime and Cyril Godet.
They mainly produce blends. The Réserve de la Famille is an exception and is a grande champagne.
They produce a fairly extensive range: VS Cuvé, VSOP Spécial, XO Excellence, XO Terre, XO Fine Champagne, Folle Blanche, Gastronome, Hors d'Age Rénaissance, Hors d'Age Extra, Réserve de la Famille Old Borderies, Réserve de la Famille Ambleville, Réserve de la Famille Extra Old.
Other brands in possession of Godet or wich have been used in the past by Godet:
Artaud de la Ferrières
Hautefort
Hivert & Pellevoisin
Grace Dieu
Lautrec
Louise Hivert
Richelieu (sold to Distell)
Baron de Chastelard (sold to Slaur Sardet?)
Courtell & Co.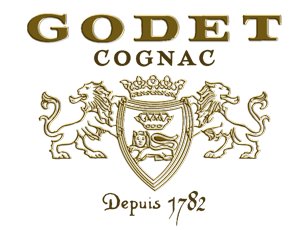 http://www.cognacgodet.com/
Address: 34 Quai Louis Durand, 17000 La Rochelle. Telephone: 0546 411066. (visits by appointment only).
New address: Rue Elie Barreau, 17000 La Rochelle. (same telephone number).