Drouet, bouilleur de
Cru

in Coulonges (petite champagne)
[Not to be confused with Drouet in Salles d'Angles, grande champagne]

Michel Drouet's grandfather, Amynthe Renoux, installed his first alambic in 1919 in Coulonges. Michel has been working in his father's company already since 1969 and took over the management in 1981. Michel started direct sales twenty years later. He has about 12 hectares in the petite champagne. They distill themselves.
Range (petite champagne): VSOP (15 years), XO (30 years) and Vermeil (>45 year).
They have won a series of gold medailles: VSOP in 2011 and 2013, XO in 2012 and 2014, Vermeil in 2016.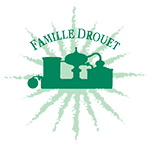 http://www.familledrouet.fr/ 
Address: 4 rue des Ecoles, 17800 Coulonges. Telephone: 0546 964427; mob.: 06 08096251. (Visiting all year round on appointment).