Domaine des Broix, cognac producer in Touzac (grande champagne)


The Domaine des Broix can no longer be called a bouilleur de Cru. It was bought by KIN in 2004, which is a Russian liquor company. Unfortunately, I do not know who the owner was before, but that was probably a bouilleur de cru at the time.
The purchased domain had 32 hectares of vineyard in the grande champagne. The Russians intended (maybe still do) to expand it to approximately 80 hectares.
Marina Tyaguiléva is Maître de chai. She works together with local experts. They have an alambic and distil themselves.
The company, which also produces other drinks, is headed by Armen Eganyan. It was founded in 1940 and has long been a state-owned company, but was privatized in 1998.
Gamma (grande champagne): VSOP, Vieille Ville XO, Vieille Ville Extra, L'Oeuvre.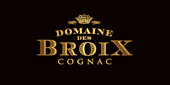 http://www.domainedesbroix.com/fr/


Address: Le Broix, lieu-dit Les Broies, 16120 Touzac. Telephone: 0545 253389. (No known information on visiting possibilities.)