Domaine de la Margotterie, bouilleur de
Cru

in Saint-Ciers-sur-Gironde (fins bois)
[Not to be confused with the nearby Domaine de la Margotrie of Alain Pruleau in Saint-Bonnet-sur-Gironde.]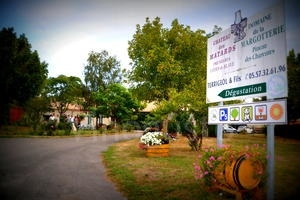 Saint-Ciers-sur-Gironde is located in the Blaye district of the Gironde department. Here is the main address of the Terrigeol family, but Jonzac district of Charente-Maritime is a stone's throw away.
In both departments, the family has vineyards so they make both wine (a Bordeaux, Côte de Blaye) and cognac (Fins bois).
The wine is made under the label Chateau des Matards and the cognac under the label Domaine de la Margotterie.
Range (fins bois): XXX, VSOP, Napoléon, XO.

http://www.chateau-des-matards.com/accueil/
Address: 27 avenue du Pont de la Grâce, 33820 Saint-Ciers-sur-Gironde. Telephone: 0557 326196. (No information on visiting possibilities)