Delamain, cognac firm in Jarnac

Delamain is a medium sized cognac firm and is amongst the oldest in existence. It is a family run company. They do not own vineyards and do not distil themselves. They are known for their high quality products and are well respected by their collegues, even the bouilleurs de Cru. The young eau-de-vie is bought from a large number of vignerons, but they have no contracts with them. So each year they decide from which sellers they will buy, by tasting the samples they are offered. The management and Maître de Chai get together on a daily base to evaluate the aging of their stock and to assess the samples they have received from the wine-growers.
1763 James Delamain (named Jacques in France) marries Marie Ranson and together with his father-in-law, Isaac Ranson, he establishes Ranson & Delamain.
1796 Thomas Hine marries Françoise Elisabeth Delamain and associates with his father-in-law Delamain.
1817 Bankruptcy under Jean Isaac Delamain, son of James.
1824 Anne Philippe Delamain (son of Jean Isaac) and Paul Roullet establish Roullet & Delamain. Paul Roullet is married to Anne Philippe's aunt, a sister of Jean Isaac.
1920 Jacques and Robert Delamain buy off the Roullet's and name themselves Delamain.
1994 Bollinger acquires a one-third share in Delamain. Delamain remains two-third family-owned.
2017 Bollinger reinforces its position in Delamain and gains control.
2019 Delamain buys 20 hectares of vineyard (Bellevigne).
Delamain is French from origin, but the family emigrated and was Irish from approximately 1625 untill 1759.
In 1759 James Delamain returned to France.
Conflicts in the family between the seven children of James and their spouses led to the bankruptcy in 1817.
Jean Isaac Delamain was married to Elisabeth Augier (!)
Robert Delamain wrote Histoire du Cognac in 1935, an important work on cognac still referred to by many writers on the subject. In 1936 he was one of the people who participated in the revision of the ´carte des crus´.
Charles Braastad (managing director) and Patrick Peyrelongue (CEO), both descendants of Delamain are the current owners. (One of Robert Delamain's four daughters, France, married to Christian Braastad. Their son Alain became director, together with Patrick Peyrelongue, who is a greatgrandson of Robert Delamain as well.)
Update September 2020: Patrick Peyrelongue has retired.
Delamain only makes grande champagne cognacs.
Their Pale & Dry of XO-quality (22 to 28 years of age) and their Vesper (thirty to forty years) both have a very good reputation.
The Très Vénerable Grande Champagne and the Réserve de la Famille are older still and of course more expensive.
Preferably they use eau-de-vie that is distilled on the lees. They do not use new wood to prevent an excess of tannine in their products.
The first few years they age the cognac in moist chais, after that they are transferred to dryer storage rooms, and next back to chais with more humidity. In a dry chai aroma's develop more easily because comparatively more water than alcohol evaporates.
Reduction takes place by adding a mixture of very old cognac and distilled water (15% alcohol) during a period of twenty years. Such a mixture is called 'petite-eau' or 'faible'.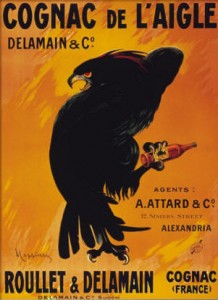 The cognacs of Delamain have a dry and light style and colour.
Delamain also pruduces cognacs for tThe Wine Society in the UK.
Other brands being used by Delamain in the past are:
Aigle Impériale
Hédiard
Moulin de Mougins (produced by Delamain)
Tourrel, François
As you can see in the logo, Delamain mentions 1824 as the date of origin. The logo has a coat of arms with three crosses and an eagle on top.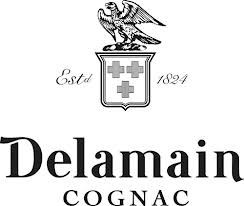 http://www.delamain-cognac.fr/
Address: 7 Rue Jacques & Robert Delamain, BP16, 16200 Jarnac. Telephone: 0545 810824 (visit by appointment only).