Deau, merchant and distiller in Sireuil

The history of the Deau family dates back to approximately 1685, when Louys Deau started as a winegrower in Corme Royal (West of Saintes). Some sources say it was in 1665.
They became real ´bouilleur de Cru´ in 1789, but always sold their eaux-de-vie to the big firms. Until 1994 when they started selling cognacs under their own name.
They possess 60 hectare of vineyards in three different cru's – borderies, fins bois and bons bois – for the most part planted with ugni blanc, folle blanche, colombard and montils. In addition they buy eaux-de-vie from all districts, so now they are no 'bouilleur de cru' anymore. For distilling purposes they have twelve pot stills at their disposal.
They are the owners of Domaine de Chaillaud, lying in the superb park near Saint-André-de-Lidon.
As of  2003 Deau became the property of the Bru family who had established the Distillerie des Moisans in the sixties in Sireuil and who sold their cognacs under the brandname of Roland Bru. Roland Bru was a hero of the Second World War and has been active politically afterwards.
Veronique Bru-Legaret and her son Roland Legaret are now in charge of the company. Maître de Chai is Philippe Fillon.
Distillerie des Moisans has four production lines, each for a different brand: Deau, Roland Bru, Cognac Moisans and Baron d'Yllac.
Moisans range (blends): VS, VSOP, Napoléon, XO 10 years old and XO.
Deau range (blends): VS, VSOP, Napoléon, Privilege, XO, Deau Black, Deau Louis Memory (grande champagne).
Roland Bru range (blends): Baron Roland, XO, Extra, La Saga.
Baron d'Yllac range (blends): XO.
Since a few years the griffin has become the logo for the Deau brand: a lion with the head of an eagle.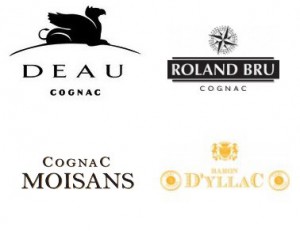 They also own the brand Domaine de Chez Cormier.
http://www.houseofcognacs.com/fr/ (Bru, Deau, Moisans en Baron d'Yllac)
http://www.deaucognac.com/
Les Moisans, 16440 Sireuil. Telephone: 0545 905545 (please contact before you visit.).