Conte & Filles, bouilleur de
Cru

in Chillac (pc, fb, bb)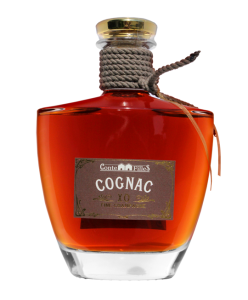 Several years ago (2010-2011) Anne-Laure and Blandine Conte took over the family business, that was started by their great-grandfather Coiffard in 1860. They are now fifth generation. It was a farm with 150 hectares for grain and cows, of which 17 hectares were also planted with wine. Their father had alreardy installed an almabic in 1989, but they still did not bottle themselves.
Then in 2012 the two sisters start to bottle their own cognac. At first they had called their company 

Chais L (fonetic for 'chez elles') and this also was supposed to become their brand name. Now Conte & Filles features on the bottles because the monthly magazine Elle threatened to start a procedure.
The vineyard has been expanded to 25 hectares and has areas in the petite champagne, the de fins bois and the bons bois districts. In their XO blend (fine champagne) is also grande champagne, that is bought from a relative with vineyards in the grande champagne district.
Part of the production is sold to other big cognac companies.
It is also possible to stay the night.
Gamma: VS (petite champagne), VSOP (petite champagne), XO (fine champagne)

www.contefilles.com
Address: Chez Grimaud, 16480 Chillac. Telephone: 0545 987323; mob.: 06 80418734 or 06 62383706. (Open voor visiting from Monday till Saturday 10h-17h.)