Chateau d'Usson, brand name of Baudrit, bouilleur de
Cru

in Echebrune (petite champagne)
[Not to be confused with the Chateau d'Usson in Pons, a castle with a theme parc that has no relation with cognac whatsoever.]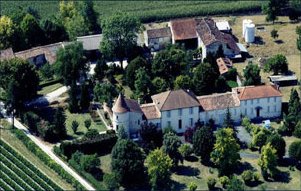 The Baudrit family owns the beautiful Logis d'Usson. They produce cognac under the Chateau d'Usson label. It all is a bit confusing because the real Chateau d'Usson, after which the road is also named, used to be located nearby, but was bought up in the 19th centrury, pulled down an rebuilt on the outskirts of Pons. This one in Pons has a theme parc and is also called Chateau d'Enigmes.
Jean-Yves Baudrit, who also happens to be the major of Echebrune, makes a petite champagne cognac. He and his wife Stéphanie work together and they are the third generation. They own a pot still and distil the wines themselves.
Range (petite champagne): VS, VSOP, XO.
Update 2022, July: according to a visitor, they have stopped producing cognac. No more sales either.