Chateau de Mesnac, in Mesnac (borderies)

Before, this beautiful place was known as Distillery du Veron, established by Jean Churlaud. Today it is better known as a Bed & Breakfast and a restaurant, but they still produce and sell cognac with the brand-name Chateau de Mesnac. The name Distillery de Veron still features in their emblem.
Jean Churlaud first was a cognac broker, but he succeeded in gathering a nice vineyard of 13 hectares (140 different patches of land) and in 1993 he bought the chateau de Mesnac in rouinous state and restaured it himself.
It is now owned by Christel Churlaud, who today owns 40 hectares of vineyard and two alambics.
Range (borderies): Cognac My Lady, Vieille Réserve (Napoléon), XO Perle d'Or.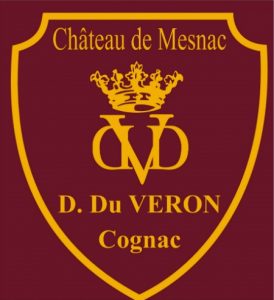 http://www.chateaudemesnac.com/
Address: 112 Rue Eglise, 16370 Mesnac. Telephone: 0545 832661. (Visiting is possible from June till Septembre).