Chateau Bellevue and Domaine Elisabeth, brands of the Arrivé family, bouilleurs de
Cru

in Virollet (bons bois)
[Not to be confused with the Arrivé family in Champagnolles, also bons bois, with the brand L'Augerie.]


The Arrivé family are active winegrowers since 1881. In 1972 they buy the lovely Chateau Bellevue in Virollet. Today the two brothers Jean-Guy and Bruno Arrivé possess 108 hectares of vineyard. Since they also produce a fins bois cognac, part of these vineyards probably will be in the fins bois region. Besides Ugni blanc they also have Colombard, Folle blanche and Montils grapes planted to be used in their cognacs.
In 1981 they buy Domaine du Taillant, situated somewhat South of the chateau. At first only wine is produced on this domaine, but from 1997 on Elisabeth Arrivé, spouse of Bruno, starts a label of her own: Domaine Elisabeth. This brand name is not only used for wines, but also for cognacs. Here they have 35 hectares planted with Ugni blanc and Colombard.
And in 2003 a third domain is bought in Talmont, Le Talmondais, but here production is restricted to only wines.
Range Chateau Bellevue: VS (Colombard and Ugni blanc), VSOP (Colombard and Ugni blanc), Napoléon (Colombard and Ugni blanc), Guillaume III (Colombard and Ugni blanc), XO (fins bois; Folle blanche, Colombard and Ugni blanc) and Vieille Réserve (Fins Bois; Folle Blanche, Montils and Colombard).
Range Domaine Elisabeth (all Fins Bois): VS (Colombard and Ugni blanc, 3 years old), VSOP (Colombard and Ugni blanc, 6 years old), XO (Colombard and Ugni blanc, 10 years old), XO EXTRA (Colombard, 12 years old).
(Update: it seems Elisabeth and Bruno Arrivé are succeeded by Laurie and Guillaume Arrivé)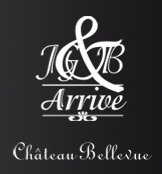 http://chateau_bellevue.vignoblesarrive.eu/ (update Oct.-2019: website not online anymore)
Address: Chateau Bellevue, 17260 Virollet. Telephone: 0546 942139. (No information known about visiting possibilities).