Charpentron, bouilleur de
Cru

in Gondeville (grande champagne)

The family resides in Gondeville since 1764, on the domaine Clos de Meridienne. Here Jacques Rénier started distilling and selling his cognacs in casks. He owned 130 hectares of land. In 1865 it was André Riffaud who continued the business, no doubt because a Rénier daughter married to André Riffaud. These days the owners are Bruno and Xavier Charpentron, who are sons of Claude Charpentron. It was Claude Charpentron's father who started to sell his cognacs direct and under his own name in 1954.
The family now owns 72 hectares in the grande champagne district. A large part is planted with grapes for making pineau. Grapes suitable for cognac are ugni blanc and montils.
Range: VS (fins bois), VSOP, Napoleon, XO, Hors d'Age, Millésimé.
In the past they also made a Fine Champagne cognac.
An other brand they sell is a tribute to the founder of the company:
da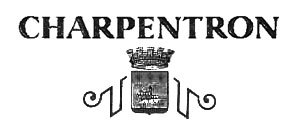 http://www.cognac-charpentron.com/
Address: 4 Chemin du Bois Clos, Domaine de Mérienne, BP 87, 16200 Gondeville. Telephone: 0545 811327 – 06 13605846 (geen informatie over bezoek)