Joan Brisson, bouilleur de
Cru

in Matha (fins bois)
[Not to be confused with Gilles Brisson in Chateaubernard, grande champagne]

Not much information can be found about this small family company in the fins bois region. A nice feature is that Joan Brisson also operates a bamboo garden (Bambouseraie) and a botanical garden (entree fee 5 euro).
Range (fins bois): VS, VSOP, Vieille Réserve en XO.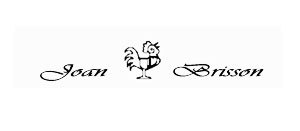 http://www.cognac-brisson.com/
Address: 7 rue de Saint-Herie, 17160 Matha. Telephone: 0546 582507; Mob.: 06 67054540. (Visitors are welcome.)
Note: 7 Rue Saint-Herie in Matha is a dwelling-house in a regular street. Just a little further you can find Rue de Moulin, where on number 16 the bamboo garden is located. Possibly this is also were you can have the opportunity to taste some cognacs.